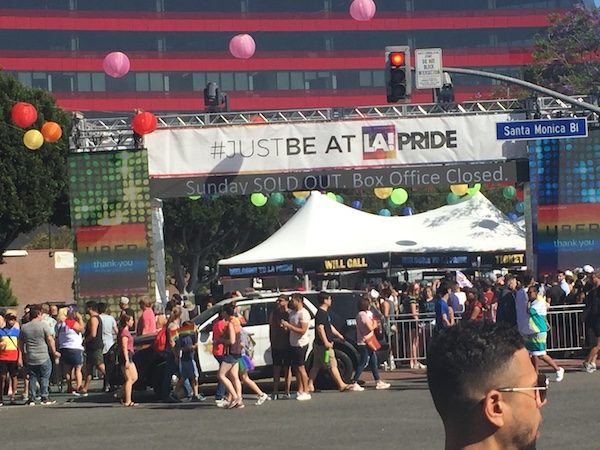 The annual LA Pride parade and its accompanying festival came to an unpleasant end today with hundreds of ticket-holders angry after being refused admission to the festival for the second day in a row.
As it did on Saturday, Christopher Street West, the non-profit that produces the event, said the event was overbooked and there wasn't room for those who had been waiting in line for an hour or more to get into the festival. CSW ended the festival at 11 p.m. on Saturday, two hours ahead of the scheduled 1 a.m. closing.
Some of those who were turned away on Sunday were there because CSW had promised to accept their Saturday tickets for admission on Sunday as compensation for the earlier turn away. Tickets for one-day attendance are $30, not including processing fees.
People can request a refund by emailing help@seetickets.us or calling See Tickets at (323) 908-0607.
CSW's abrupt closing of entry to the festival sparked hundreds if not thousands of any angry posts on Instagram and Twitter and coverage on local TV stations.
"I think the stuff going on with #LAPride is just more commercialization of pride," tweeted Danielle Cher Aime @DeeCherAime. "It is shameful to sell more tickets than you have capacity for. The Stonewall riot and lgbt rights movement wasn't about companies making money. Pride is about equality. Refund all tickets sold."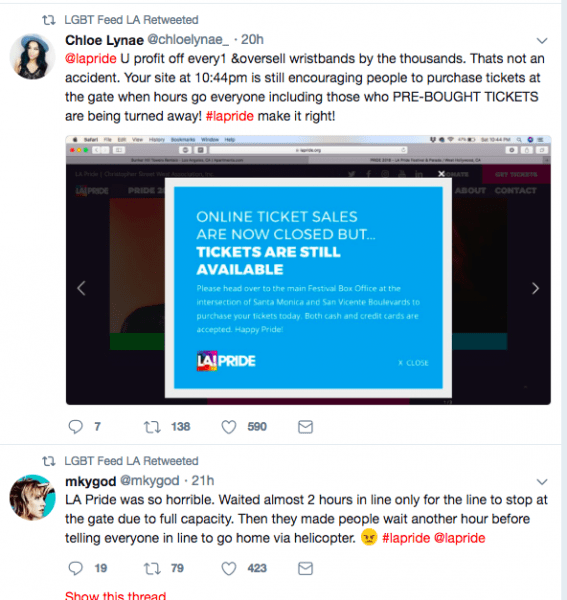 "@lapride U profit off every1 & oversell wristbands by the thousands," tweeted Chloe Lynae @chloelynae on Saturday. "That's not an accident. Your site at 10:44 p.m. is still encouraging people to purchase tickets at the gate when hours go everyone including those who PRE-BOUGHT TICKETS are being turned away. #lapride make it right!"
Manolo Ordonez @manolo_ordonez2 posted a tweet suggesting that he had purchase a plane ticket and tickets to the Pride festival, made a hotel reservation and took an Uber ride only to turned away from the festival after waiting three hours.
Sergio Aloma, captain of the West Hollywood Sheriff's station, told WEHOville that only 15,000 to 16,000 people were allowed in the festival grounds at any one time.
"We're thankful there was no serious injuries, but obviously there was overcrowding," Aloma said.
On Saturday night as people exited the festival grounds, many were startled to see nearby sheriff's deputies wearing helmets with protective visors. That was done as precaution after some people on the street had thrown plastic water bottles.
"With a large crowd, it can be unpredictable, so the deputies wore protective equipment for their own safety," said Aloma.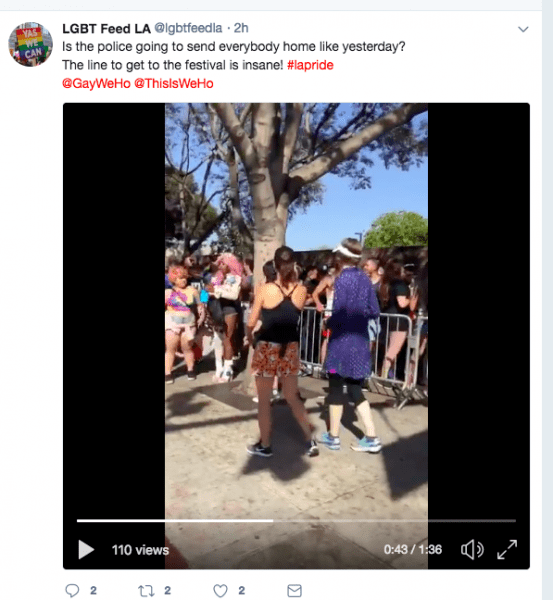 The City of West Hollywood issued a statement early today that said "attendance at the LA Pride Festival at West Hollywood Park reached capacity on the evening of Saturday, June 9, 2018. Crowd size and density became a safety concern. L.A. County Fire and L.A. County Sheriff's made a joint decision to close entry to the Pride Festival and to safety disperse the crowd … This is the first time in the event's decades-long history that it has been closed due to crowds … The City of West Hollywood will take steps to meet with Christopher Street West, the event organizer, to determine what occurred and to plan for future Pride celebrations."
This year's Pride parade and festival is the third to take place under the leadership of Chris Classen, who was forced to step aside as chairman of its board last month when WEHOville published a story revealing that he had pushed CSW to enter a potentially lucrative contract with Craig Bowers, a partner in his private events and marketing business. Bowers was given an exclusive contract to solicit sponsorships for the event at a commission of 20%. Such a contract with a non-profit executive's private business partner is an apparent violation of state law and an absolute violation of non-profit ethical standards.
In 2016, Classen and Bowers and friends they selected for the CSW board of directors changed the focus of the Pride festival to a music festival. That outraged many LGBTQ community members, who complained about the reduction in programming for lesbian and transgender community members and CSW's evident focus on generating money by marketing to millennials. While Classen told CSW board members it wasn't clear whether the organization made or lost money on the event, an investigation by WEHOville showed the organization lost $396,000.
Classen has been replaced as chairman by relatively new board member Esteban Montemayor who led an effort to recruit a full-time director for CSW. That director, Madonna Cacciatore will take office on July 1.