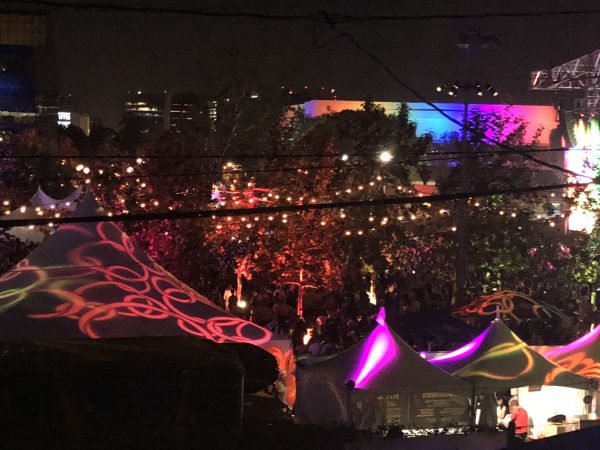 Saturday's LA Pride festival turned raucous as thousands of upset ticket holders were turned away more than three hours before it originally was scheduled to end.
Ticket holders lined the sidewalks for many blocks both east and west on Santa Monica Boulevard to the festival entrance at San Vicente Boulevard. At one point, the West Hollywood Sheriff's station requested help from other nearby stations to control the crowd with reports of people throwing rocks and bottles. They closed the festival around 11 p.m., two hours before the scheduled 1 a.m. closing.
The hashtag #LAPride was the No. 1 topic on Twitter for hours afterward with festival goers expressing disappointment and venting about the tickets being oversold. The tickets were $30 for one day at the two-day event.
After her performance, headliner Kehlani commiserated with those who were unable to see the show.
"As fun as that was, my heart goes out to all the folks who drove, flew, train and bussed here and weren't allowed in," she posted on Twitter. "Throughout all the mishaps, tonight we broke a record. Made history. LA Pride committee said they've never seen ticket sales like this. Thank you again, really."
At around 3 a.m. Christopher Street West, the organizer of the festival, issued an apology to the ticket holders who were turned away.
"We are sorry and want to apologize to everyone who could not get in after the venue hit capacity," said a statement posted to LA Pride's Twitter account. The statement offered to exchange unused tickets and wristbands for access to Sunday's activities, which are scheduled from noon to 11 p.m. at West Hollywood Park.
City officials also promised more information would be forthcoming for people seeking refunds instead of an exchange.
A crowd estimated at more than 100,000 gathered for first day of the festival, which included live entertainment, art exhibits, games and giveaways. Earlier in the day, Pride organizers had announced the event's first sell-out crowd in its 40-year history. But the overflow gathering was considered a fire hazard and deputies started asking people to leave shortly after 9 p.m. Saturday amid cries of "let us in," as shown in multiple videos posted to social media.
The City of West Hollywood released a statement on Twitter Sunday that read, in part: "The City … is grateful to the first responders at L.A. County Fire and L.A. County Sheriffs for dispersing the large crowd without major incident. This is the first time in the event's decades-long history that it has been closed due to crowds. Following Pride weekend, the City of West Hollywood will take steps to meet with Christopher Street West, the event   organizer, to determine what occurred and to plan for future Pride
celebrations."
The festival resumes at noon today and is scheduled to end at 11 p.m. The annual Pride parade will begin at 11 a.m. on Santa Monica Boulevard at Fairfax Avenue and conclude at 2 p.m. on Santa Monica at Doheny.