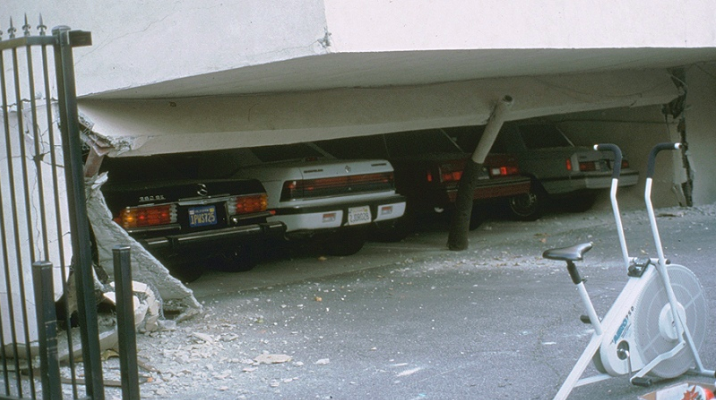 Starting with a meeting on Saturday, over the next month, West Hollywood renters and landlords will be asked their opinion on a proposal that tenants pay 50% of what it costs their landlord to upgrade their apartment building to protect it from an earthquake. That charge would have a cap of $30 to $40 a month and would extend for 10 years.
The proposal was brought before the city's Rent Stabilization Commission on Thursday night by Peter Noonan, acting director of West Hollywood's Human Services and Rent Stabilization Department. It includes a waiver for tenants who are dealing with an as-yet unspecified financial hardship.  The commission hopes to develop a final proposal next month, which then will be brought before the City Council for approval.
That approach to covering the cost of earthquake retrofitting, known as the "cost pass through," is one of two options discussed by the commission. The other option is a "net operating income" increase, which would allow a landlord to increase the rent of his tenants by an amount sufficient to ensure that his profit from the building doesn't fall below a certain level. That level would be calculated by looking at the owner's profit in a certain city-designated year and determining how much the retrofit costs reduced that profit.
The Net Operating Income (NOI) approach was not recommended by Noonan or the Rent Stabilization Commissioners for several reasons. For one, it would be a permanent rent increase. Another reason is that it would have a higher impact on buildings with a majority of long-term tenants. Because of the city's rent stabilization law, a landlord is able to increase a tenant's rent only by 75% of the annual increase in the consumer price index for the Los Angeles/Riverside/Orange County area. However a landlord can raise the rent to a market rate when a tenant leaves an apartment. So buildings with higher tenant turnovers tend to generate more profit for a landlord than do those with more long-term tenants.
While the commissioners agreed to seek public input on the proposal brought forward by Noonan, not all of them were satisfied with it. Commissioner Garrett Charity, for example, said there should be some way to require a landlord to justify the amount of the retrofit cost that he is passing along to tenants by showing its impact on his profits, which is what is required in the NOI approach. Charity also said that the amount of the increase shouldn't be the same for a studio apartment as it would be for a one-bedroom apartment.
A number of West Hollywood residents spoke out against any requirement that renters have to share the cost of upgrading the buildings they live in, with several claiming their buildings are owned by wealthy people who can afford to bring them up to grade to survive an earthquake.
The city is recommending that tenants share some of the cost of the required retrofit to reduce the likelihood that a building owner might decide to sell his building rather than carry the cost of retrofitting it. That likely would take the building off the rent-stabilization market, with the new owner evicting the tenants and converting it to condominium units.
That possibility was raised in a letter to the commission from the Apartment Association of Greater Los Angeles.
"The proposed seismic retrofitting ordinance will place extreme burden and expense on 'mom and pop' owners in West Hollywood," said the letter from AAGLA's Janet Gagnon, director of government affairs and  external relations. "Most of the impacted buildings are older and already require substantial amounts of ongoing maintenance and upkeep. These buildings are already under rent control and yield very little margin and barely keep their owners in business. If these owners are unable to pass-through the costs of seismic retrofitting, many will be forced to sell their property. As a result, these buildings will be converted into luxury apartments, condominiums or other uses, and as a result, the supply of affordable rental housing will be decreased.
The city is holding a meeting to get the public's input on the options at 11 a.m. on Saturday at the city auditorium, which is located at 647 N. San Vicente Blvd., just north of the West Hollywood Library.