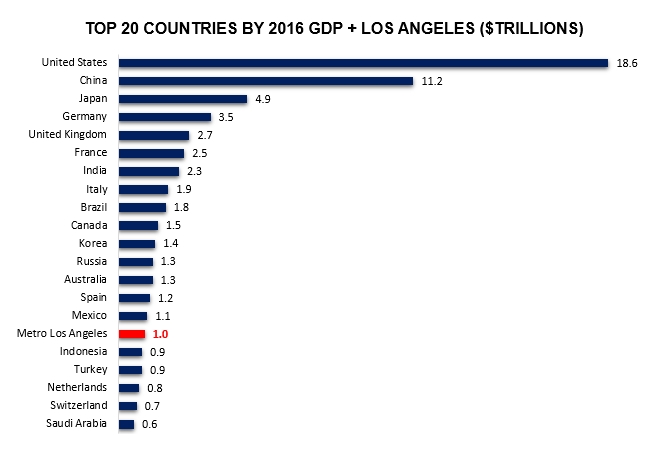 West Hollywood has a $3 billion economy, larger than the economies in 33 small countries. That estimate comes from a new report by WeHo by the Numbers.
The report measures the size of the local economy in terms of gross domestic product (GDP). GDP is the sum of the economic value added in a geographic area. Put another way, it is the dollar value of final goods and services produced. It avoids double-counting the value of intermediate goods and services, such as the flour used to make bread.
California's GDP was $2.7 trillion in 2017, the biggest in the country. It represented one-seventh of the national economy. Texas' economy came in second. It was about 40% smaller than California's. Both California's population (40 million) and its GDP per capita were bigger than that of Texas.
If California were a country, its economy would be the fifth-largest in the world. The U.S. as a whole, China, Japan, and Germany would come before California. The United Kingdom, India, France, Brazil, Italy, and many others would come after it.
Metropolitan Los Angeles had a $1 trillion GDP in 2016. That was almost 40% of California's total. The state's second and third largest economies were in the Bay Area. Together, metro San Francisco and metro San Jose represented a quarter of the state's GDP.
If metro Los Angeles were a country, it would be ranked sixteenth as of 2016. It would be just behind Mexico and just ahead of Indonesia.
If metro Los Angeles were a state, its economy would be the fourth largest in the country as of 2016. The only states with bigger economies are California, Texas, and New York. On a list of all state and metro areas, Los Angeles would be ranked number five. Metro New York would come in at number two. It covers parts of four states.
GDP is typically measured only for larger geographic areas, such as countries, states, or metropolitan areas. The report uses census data to allocate a portion of the metro Los Angeles GDP to West Hollywood, one industry at a time.
The report estimates West Hollywood's GDP to be $3.3 billion as of 2016. That is the economic value added within the city by workers, businesses, government entities, and non-profits. It excludes the economic value residents created when they worked outside the city. That value would be counted in another city's GDP.
West Hollywood's economy is only 0.3% of metro Los Angeles' $1 trillion total. However, the city's GDP is still more than that of 33 small countries, including many island nations.
West Hollywood's GDP per capita (per resident) is higher than average for metropolitan Los Angeles. The GDP per worker appears to be below average.
For more information, see the full report, How big is West Hollywood's economy?