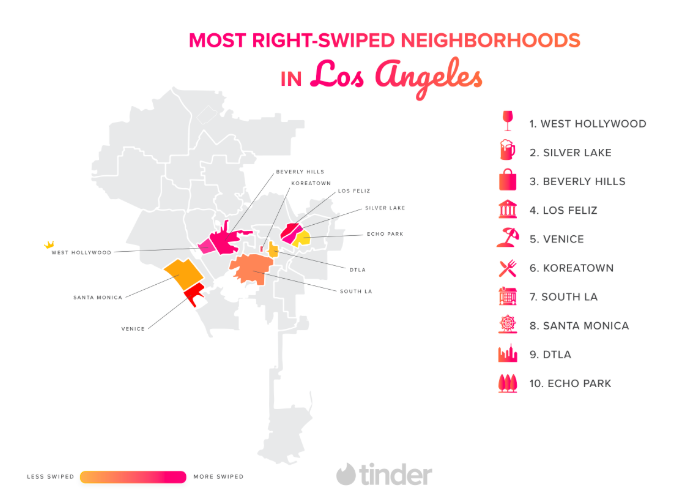 Not everyone in West Hollywood is stuck on the Grindr grid. In fact, a newly released study by Piper Jaffrey, the research firm, shows West Hollywood ranks No. 1 among ten communities in Greater Los Angeles when it comes to use of Tinder.
West Hollywood is followed by Silver Lake, Beverly Hills, Los Feliz, Venice, Koreatown, South LA, Santa Monica, Downtown Los Angeles and Echo Park in Piper Jaffrey's ranking of swipes on the dating app.
There's no data available to compare the use of Tinder among WeHo residents compared to the use of Grindr. But the popularity of Tinder in the gayest community in Greater Los Angeles suggests some residents are actually interested in dates and not just random sex, which is primarily what Grindr is used for. And it likely reflects the oft-ignored fact that 60% of West Hollywood residents identify as heterosexual.
Coincidentally, both Tinder and Grindr are headquartered in West Hollywood. Tinder is owned by Barry Diller's IAC. Grindr now is owned by Beijing Kunlun Tech Company, a Chinese gaming company.