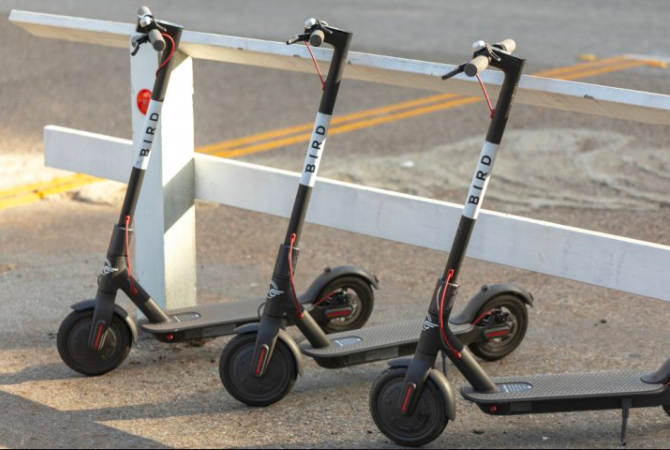 The City Council  voted Monday  night to ban electric shared scooters (and bicycles) in West Hollywood and rejected a proposal by City Hall staff to launch a pilot program to test ways to regulate the increasingly popular vehicles.
The city's Public Works and Planning and Development Services departments brought forth the proposal in response to a "rogue launch" on March 30 by Lime Scooters of its scooter fleet in West Hollywood. Lime distributed scooters around the city that could be rented via a mobile phone app. A rider was able to drop the scooters wherever he ended his trip, and Lime used GPS technology to track and recover them.
The proposed pilot project would allow a maximum of three companies to each located up to 50 scooters within West Hollywood for six months. The companies would be required to share ridership data with the city, which would put restrictions on hours of operation and location of the scooters.
The pilot project drew opposition from Manny Rodriguez, a resident of West Hollywood West, who contested the argument that use of scooters protects the environment by reducing driving of cars.
"We do not live in a movie studio back lot, a college camps or an Amazon warehouse," Rodriguez said. "…. Our city should not bargain with companies that depend on the public space for their private gain."
Councilmember John Heilman said he opposed the pilot program in part because of Lime's unauthorized launch in West Hollywood, which he likened to a company dropping vending machines on city sidewalks.
"It's actually quite outrageous for a company that knows that they don't have permits to do this…. ," Heilman said. "I think that's just really a very bad business tactic."
He described the use of scooters as "a joy ride. They don't have helmets, they're not respectable of pedestrians on the sidewalk."
Mayor John Duran also opposed the pilot program, arguing that the city's sidewalks already are congested. The proposed pilot program would bar scooters from city sidewalks, however they already are being ridden there.
Councilmember John D'Amico supported the pilot program and suggested giving the city's Transportation Commission the discretion to increase the number of permitted scooters if there wasn't an adequate supply of them in certain areas of the city.
D'Amico noted that the scooters already are being ridden into West Hollywood from nearby cities.
"I'm definitely not interested in posting officers at the borders and telling them that 'you have to get off'," he said.
"Now, what do we do when people ride them?" D'Amico asked after his fellow Council members voted to ban them. "Are we creating another category of miscreants?"
Dan Mick, the city's code compliance supervisor, said it isn't illegal for individuals to drive rented scooters into West Hollywood nor is it illegal for WeHo residents who own their own scooters to drive them, so long as don't use them on sidewalks.
Tara Worden, an assistant city planner, said that if scooters are left parked on sidewalks, the city would more easily be able to figure out who had left them if it were collaborating with the scooter rental companies in a pilot program.
Representatives from Lime and Spin Scooters spoke in favor of the pilot program. Bird, a Santa Monica-based scooter rental company whose vehicles are seen on WeHo's sidewalks, did not offer an opinion on the proposal.