We all make mistakes. But not all of us acknowledge that we do. And not all of us say we're sorry.
In what is an impressive start to his term as West Hollywood's mayor, John Duran has acknowledged and apologized for some of his mistakes.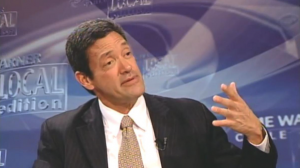 Duran has been criticized by members of the community for attempting at a June 4 City Council meeting to shut down comments by Ivy Bottini about his controversial declaration of "Stormy Daniels Day" in West Hollywood. As Bottini, a well-known lesbian activist, steered her comments from the agenda topic to the Daniels event, Duran called on a Sheriff's deputy to remove her. At tonight's Council meeting, local resident Amanda Goodwin asked Duran to apologize to Bottini. Duran acknowledged that he overreacted to Bottini's criticism of him.
"I … want to apologize to Ivy Bottini," Duran said. "I think I was overly heavy handed, and I apologize."
Duran acknowledged Bottini's activism, saying that while they have sometimes disagreed, they have walked a common path.
Duran, who was criticized in a WEHOville editorial  for making misogynist remarks about a prominent local woman that were revealed in a trial last year, also is said to have reached out to that woman to apologize.
With 18 years of service on the City Council, John Duran has significant institutional knowledge. He also is passionate about issues such as LGBT rights and affordable housing that the city was founded on. And he is widely acknowledged for his skill at speaking.
Duran's position as chair of the Gay Men's Chorus of Los Angeles, which receives large contributions from city vendors and developers and lobbyists, remains an issue when it comes to West Hollywood's reputation. Let's hope the city's Ethics Task Force takes a look at that. But our mayor is headed thus far in a positive direction.