It seems to me that West Hollywood has a success conundrum. Like nouveaux riche success stories everywhere, we seem to be simultaneously clenching our newfound riches with both hands and forgetting to remember where we came from. We've all seen that movie. Poor kid grows up, gets rich, forgets their past.
I'd like us to get to the part in the movie where we think again about what helped make West Hollywood "rich" in the first place.
West Hollywood recently crossed the $140 million yearly budget mark, according to the City of West Hollywood's recently-adopted budget. Our city of 1.9 square miles, with a stable population and a growing divide between rich and poor, has seen a nearly 100% budget growth in the last dozen years. The budget growth in just the last four years has been nearly 25%, from $113 million to $140 million. The social services budget has also grown over the last four years, but it has not kept pace with the growth of the city budget nor with staff salaries. In fact, while spending in the public services category has risen, spending by percentage on social services contracts has gone down by 10%. The greatest increase in public services spending has been in transportation (the PickUP line).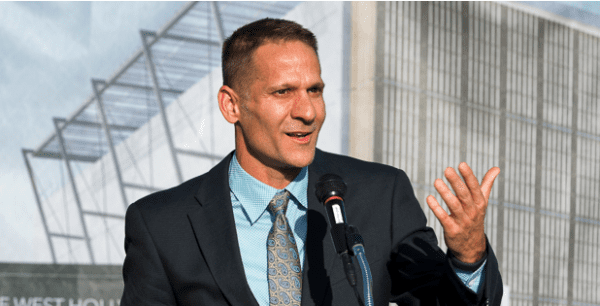 Many know, as I do, that the needs of residents now far exceed those of 15 or 20 years ago, when rents and goods and services were more affordable and people who needed assistance had more local services options. Some residents are more frail and others are less able to afford living in the city and many of our service agencies have left town. Our Human Services staff and providers do a tremendous job with the dollars they are allotted. I am confident that they can scale up to whatever level we can fund and provide even more services.
We used to be the city that spent 10% of our budget on Human Services with non-profit providers close at hand. That is no longer the case.
I believe we need to take another look at how our priorities are reflected in our budget choices and chart a smart course to correct that imbalance.
• With more people aging in place, we need to add to the budget to realize the goals of our AGING IN PLACE plan.
• With new HIV prevention strategies available, we need to push forward with additional resources for drug treatment, sober living and HIV prevention to dramatically drive down new infections to achieve HIV ZERO and get more people the drug and alcohol TREATMENT services they need.
• With women's reproductive and health services under attack across the nation, we need to redouble our efforts so that all women know that they have access to the CHOICES and options available.
• With a large complicated homeless population, our services and connections to transitional and permanent HOUSING are more important than ever.
We are doing all of this and yet, we need to do much, much more. And we have the dollars to do it.
Investing in our residents, along with our infrastructure, our business community and our staff, has to be an urgent priority. It is the residents — the creative, free thinking, inventive, caring, open-minded residents — that have made this city what it is – right from the very beginning. Long before we ever considered becoming a city, this area was famous for its collective commitment to human endeavor, creativity, and affordable living. Though we might have the latest hot spot restaurant, we are really only as good as the health and safety of our most at-risk resident.
Development pressures are affecting neighborhoods across town. Smart thinking has so far prevailed and, in every case, we are getting affordable housing dollars and/or units as new developments come on board. Our housing policies consistently help us achieve our Regional Housing Needs Assessment (RHNA) goals and, more importantly, help us to make sure that our residents displaced by development and the Ellis Act end up in safe affordable units. And rent control and our rent stabilization policies — our housing workhorses — keep people in housing that is safe and affordable. But we all hear and know there is more to the story. There is much more to do including helping with rental subsidies, helping with food and nutrition services, helping with mobility challenges, and supporting the voter initiative calling for repeal of the Costa Hawkins Rental Housing Act that will be on the November ballot. (VOTE!)
Last Monday night, while discussing the upcoming two-year budget, I challenged the City Council and the new Executive Director of the West Hollywood Community Housing Corporation (WHCHC) to begin spending the $20+ million we have in the housing trust fund on actual housing. To come up with innovative projects that reflect the needs and concerns of our community — help with rents, help to stabilize old buildings in need of a seismic retrofit, help make healthier buildings that can serve us for another 50 years. The WHCHC is positioned to do this and I invite other non-profits to step up too. Holding those dollars in the bank (Wells Fargo!) while we have a housing crisis is not acceptable.
And I challenged the Human Services Commission to request (No – demand!) that the city begin spending more dollars on human services that reach our populations in need. A fun ride on the PickUP line is an important transit option, but that doesn't mean we cannot also provide more meals to hungry seniors, more drug treatment options, more HIV prevention messages, more planned-parenthood reproductive health services, more hours of in-home care for the disabled, more mental health services. More of what can make us whole.
The current budget strategy, which has worked for the past 20+ years – add money to our budget and budget surplus – save for the long term. This has worked and that is why we have an excellent AAA bond rating and considerable reserves. But now we are leaving people behind, we are leaving our residents behind. Too many people being left behind. West Hollywood is not a business, though it is run like one; it is a city, a very well-off city that should invest in its residents more, at least as much as it invests in itself.
Over the coming months I will be initiating a series of items with my colleagues and the staff that will look to correct this growing inequity. This will not be an easy task. I was looking back at some of the budget discussions of the early 90s and money was tight and decisions were wise. Smart choices were made. And that thinking and those early choices have led to much success. And now it's time to make some new, smart choices that are resident focused. There is no place like home. I want this movie to have a happy ending.
As always if you have any questions please give me a call at (310) 498-5783 or shoot me an email at jdamico@weho.org.