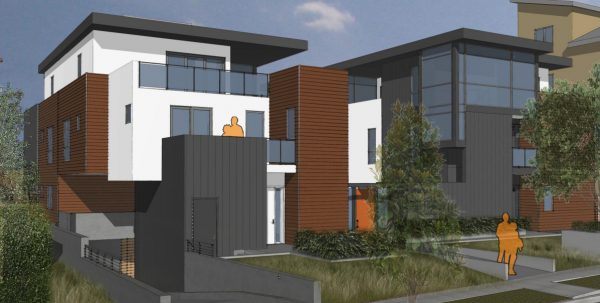 With a unanimous vote on Thursday, West Hollywood's Planning Commission approved a new apartment complex on Crescent Heights Boulevard, just north of Romaine Street.
Replacing two single-family homes at 1011 and 1015 Crescent Heights, the new three-story, 12-unit, courtyard-style apartment building with underground parking will include one unit for low-income residents.
The Commission especially liked the design, with Commissioner Rogerio Carvalheiro calling it a contemporary design with its roots in mid-century modern.
"It brings something different to the architecture in our city given a lot of the developments that we have seen in the last several months," said Carvalheiro. "I'm in favor of this project."
Although it is one single building, from the street, it appears to be two structures with a center courtyard and front gate. The commissioners liked that all of the units open onto or overlook the center courtyard.
It is designed by Derek Leavitt of the Culver City-based Modative architects, who wanted to create something that would stand out. "We didn't want to build just another apartment building," Leavitt said.
Todd DeMann and David Kramer, who are building the project through their West LA-based Paradigm Developers, hired Leavitt after being impressed with a nearby condominium building Modative had done.
"We didn't want to just build a box," DeMann told WEHOville. "[This project] doesn't look like every other house and it certainly doesn't even look like an apartment building. That was the idea. We looked at all the other apartment buildings in the area and nobody had really done this. We're really happy with the result."
Zone Text Amendments
The Commission also unanimously approved two amendments to the city's zoning ordinances. One of those amendments increases the number of employees allowed at a home-based business from one to two. That amendment also reduces the number of parking spaces required for live-work units from 3.5 spaces per 1,000 square feet (the city's commercial parking standard) to just one space per unit.
The other amendment pertains to parking in residential buildings with ten or more units, where at least one of the units is set aside for low-income residents. In such buildings, the number of required parking spaces could be reduced provided the building dedicates a space for car-sharing services (such as the ZipCar that operates throughout the city).