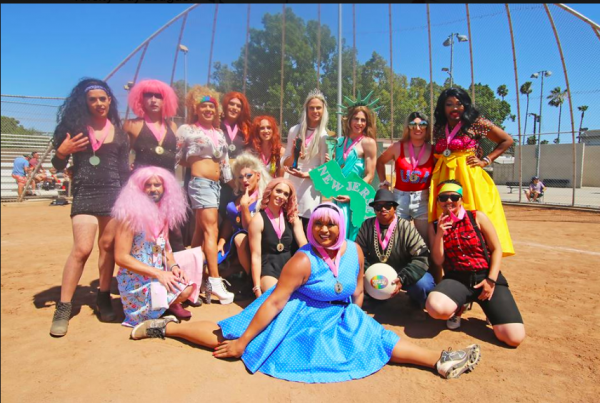 The Varsity Gay League (VGL), with the help of donations from L.A. City Councilmember Paul Koretz and the Los Angeles Dodgers raised $16,000 on Gay Pride weekend to be used to improve security at Poinsettia Park.
The money, which exceeded VGL's initial goal of $10,000 was donated to the Los Angeles Parks Foundation c/o Poinsettia Parks Friends. VGL used its annual DragBall tournament to promote the charity.
The park, at 7341 Willoughby Ave., lies within the borders of Los Angeles, with its northern edge reaching the border along Romaine Street.
VGL President Will Hackner (who was honored with the Los Angeles Dodgers Community Hero Award over Pride weekend) has taken the lead in an effort to unite supporters and users of Poinsettia Park in raising money to enhance security for the local residents, tennis players and sports leagues who use the park. There has been a large increase in complaints of crimes, littering and other problems attributed to the homeless population that lives in tenants along the sidewalks on the park's borders.
In "working with the LAPD, we hope to provide security cameras to Poinsettia Park as well as create a safety and security fund that the park can use in efforts to stem the increased criminal behavior, while still respecting the other residents of the tent city," Hackner said.
The 2nd annual DragBall is a new annual LA Pride event in which drag kings and queens compete in a kickball match, along with a drag performance half-time show for charity tips. Both teams, as well as members of VGL, participated in extensive fundraising throughout the greater Los Angeles communities leading up to the event. Guests had the chance to help their favorite team win by tipping the performers.
Those that could not attend can still donate on-line under the name Poinsettia Park Friends.
VGL, founded in 2007, is California's largest LGBT recreational sports league with branches in seven other states.