West Hollywood is proposing to impound shared electric scooters left on city streets and sidewalks and levy a $250 penalty on the companies that own them.
That proposal will go before the City Council at its July 9 meeting at which the Council is expected to give final approval to its decision on June 18 to ban the rental of such scooters within West Hollywood. In addition to the proposed $250 penalty for a first offense, the company would have to pay $40 to retrieve the scooter from city storage. The penalty, including a $50 administrative fee, will be $450 for a second offense and $850 for a third offense.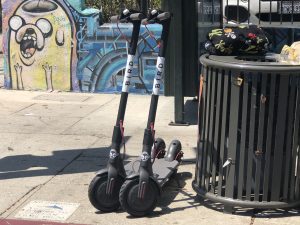 The Council's decision to ban the shared scooters came in a 4-to-1 vote against a plan to conduct a six-month test of a regulated scooter program. John D'Amico was the sole council member supporting the test, which was proposed by the city's Public Works and Planning and Development Services departments. Such scooters, offered for rent by companies such as Lime and Bird, can be found on sidewalks and leased by using a mobile phone app. They are referred to as "undocked" scooters because they are not stored in designated areas like the city's rental bikes are.
The ordinance imposing the ban states that "the new and emerging business model of operating shared, on-demand personal mobility devices from the public right of way creates public safety concerns that impact users and bystanders, and contributes to clutter in the public right- of-way. The long-term impacts of this business model are uncertain as the market is rapidly evolving. Whereas this business model may change, the city cannot be prevented from maintaining the public right-of-way in a safe manner."
The standard rate for renting such a scooter is $1 with an additional 15 cents per minute The companies that own them use GPS tracking to discover where a rider leaves a scooter and then alert other prospective riders to its location. Scooters that are not picked up by other riders are retrieved up by the owner at some point in the day. It is unclear how companies like Bird and Lime will be able to ban riders from leaving scooters within the West Hollywood city limits.
If the Council gives its final approval to the ban, as is expected, it still will be legal for individual owners of scooters to ride them on the streets of West Hollywood so long as they follow state law, which do somewhat restrict their use. Those who rent scooters outside the West Hollywood city limits also can ride them in WeHo. Currently there are dozens of dockless rental scooters resting on the sidewalks of Melrose Avenue, just outside WeHo's border.
State law requires that riders be at least 16 years of age, have a drivers license and wear a helmet. He is not required to have insurance or register their scooters. Drivers cannot carry a passenger and cannot drive faster than 15 miles per hour. Drivers are required to use bike lanes. However, they can drive on the street if a bike lane is not available. But that's only if the speed limit for the street is 25 miles per hour or less. That effectively bars the use of electric scooters on most of West Hollywood's major streets, where the speed limit is 35 miles per hour and bike lanes are scarce.  Sheriff's deputies have been enforcing the law, with one local resident reaching out to complain to WEHOville that he just received a $295 ticket for riding a scooter without a helmet.
In a memo to the City Council, the Public Works Department said it is " working with the various operators to make sure that they are proactively removing their devices from West Hollywood so that staff will not have to impound their devices."
The City Council will meet at 6:30 p.m. on July 9 at the City Council Chambers, 625 N. San Vicente Blvd., south of Santa Monica. Parking is free in the five-story structure behind the City Council Chambers with a ticket validated in the lobby.