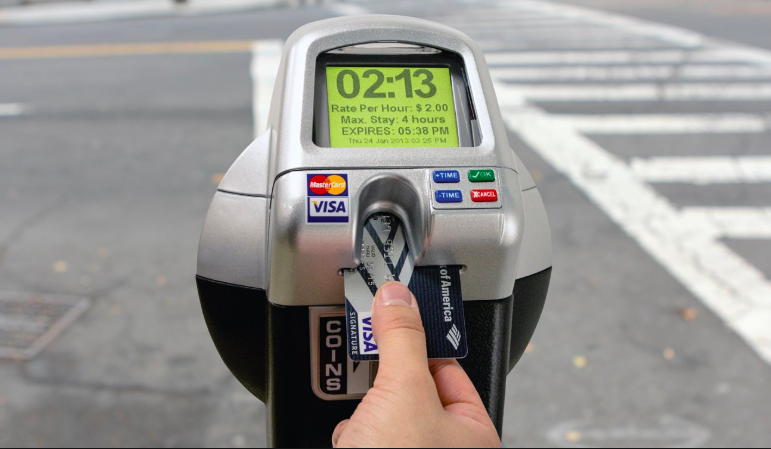 If you were using a debit card, you may not have noticed. But if you count on quarters to park, you probably were digging deep in your pockets in West Hollywood today.
Today is the day the City Council's vote to raise parking meter fees by a third (to $2 an hour) officially took effect.
The City Council approved the fee increase in April with the understanding that it would generate $1.78 million in new revenue that will be used to improve sidewalk cleaning and security in commercial areas.
The increase is expected to raise $1.78 million, which the city will use to increase sidewalk cleaning and security in commercial areas.
"The City of West Hollywood is one of the most beautiful places anywhere in the world," said West Hollywood Mayor John Duran in an announcement of the implementation of the fee increase. "With a modest increase in our parking meter rates, we're going to maintain our beautiful city by investing in cleaner sidewalks, safer parks, and more services for the benefit of residents, businesses and visitors."
"The sidewalk cleaning program will use a process that removes deep stains, grime and gum and uses specialized equipment with a deep-penetrating concrete sealer, which gets applied to provide a uniform sidewalk surface," explained the city's announcement. "The environmentally friendly process allows for the capture, filtering, and reuse of water to minimize waste. The process was successfully tested in a pilot program, launched in 2017, that focused on four test site locations on the north side of Santa Monica Boulevard (at San Vicente Boulevard, at Fairfax Avenue, and at La Brea Avenue) and on the north side of Sunset Boulevard at Hammond Street. The enhanced program will expand the process to sidewalks in commercial areas in locations throughout the city and areas heavily impacted by pedestrian traffic will be cleaned on a weekly basis."
Money also will be spent to increase security services now provided by the Block by Block security ambassadors, who patrol parts of the city on bicycles and alert law enforcement officers to crime. There will also be an expansion of security services offered by PacWest in West Hollywood Park and Plummer Park.
The city also intends to add to the after-hours nighttime clean-up services in areas such as the Sunset Strip and the Santa Monica Boulevard bar area and to expand daytime trash and litter pick-up by hand crews as well as shopping cart removal services.
All five Council members voted for the fee changes in April. However, while Councilmember Lauren Meister said she supported the plan to increase sidewalk cleaning and security she said she was concerned that the fee hike would intimidate visitors.
Meister asked that City Hall review parking meter pricing plans in other cities, citing Redondo Beach. She also asked the city to consider two levels of pricing for fines for violating parking meter time limits – a lower fine if the violation is no more than 10 minutes and a higher fine if it is more than 10 minutes. Currently the fine is $53 for exceeding the time paid for at a meter.
Like most other cities, West Hollywood uses parking meters to encourage a turnover in cars parked on commercial streets such as Santa Monica, Sunset, La Cienega and Robertson boulevards. Such turnover makes it easier for customers to visit local businesses. Longer term parking is available in parking structures such as the one on Kings Road at Santa Monica.
In Redondo Beach, residents are able to buy an annual permit for $110 that allows them to park for up to 72 hours at a meter without paying the hourly fee. Employees of city businesses can purchase similar passes for $60 a year.
Parking meter rates in some other cities vary according to their location. For example, Beverly Hills parking meter rates range from $2 to 75 cents an hour, depending on where the meter is located. The rate is highest in highly trafficked commercial areas such as Robertson Boulevard and the commercial district bounded by Santa Monica and Wilshire boulevards and Rexford Drive.