RefuseFascism.org, a New York City-based group organized to oppose Donald Trump, is holding a rally this evening at the Matthew Shepard Triangle Memorial Park in West Hollywood
The rally is a protest of Trump's nominee for the U.S. Supreme Court. It will take place at 5:30 p.m. at the park, which is at the intersection of Santa Monica and Crescent Heights boulevards.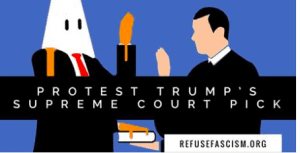 "There is no electoral road to stopping Trump's fascist Supreme Court pick," said Sunsara Taylor, a spokesperson for the group. "But that doesn't mean we have to accept it. It means is we have to step outside politics-as-usual and wage a mass, nonviolent political struggle that not only stops this Supreme Court pick, but keeps going until we have driven the whole Trump/Pence regime from power."
At the rally, RefuseFascism.org's Los Angeles chapter will issue a statement repudiating Trump's Supreme Court and unveil seven new five-foot tall posters containing "indictments of the Trump/Pence regime" which the group says "comprehensively detail the crimes already carried out by the Trump/Pence regime against Muslims; against immigrants; against women and LGTBQ people; against the people of the world through war; against truth, science and the environment; and against Black people and other people of color. Taken together, these paint an irrefutable picture of the a vicious American fascism being imposed by the Trump/Pence regime which must be stopped.
Tonight's protest is one of several being held nationwide by RefuseFascism.org that will demand the removal of Trump and his vice president, Mike Pence.