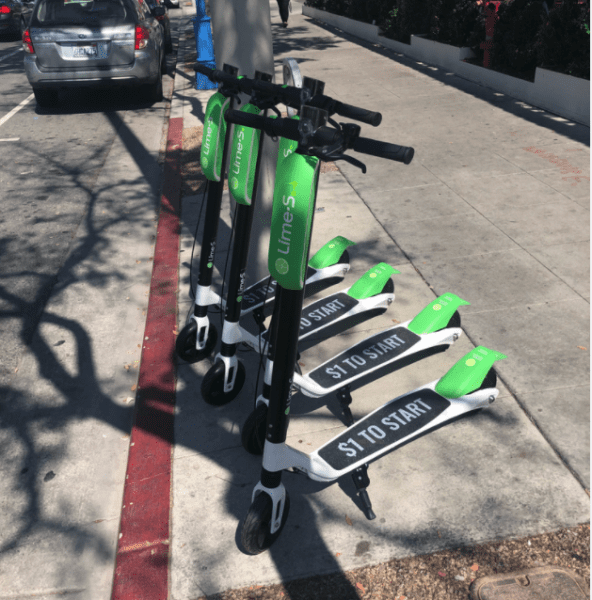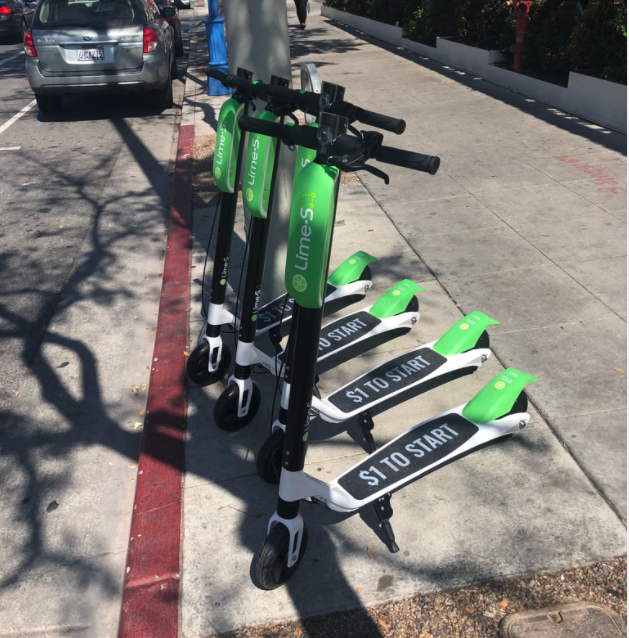 In a 4-to-1 vote, the West Hollywood City Council moved ahead tonight with its ban on companies leaving electric scooters for rent within the city limits and in establishing a penalty for those companies that do so.
The vote came after comments in favor of the dockless electric scooter rental system from several young WeHo residents, who argued that riding short distances on electric scooters rather than in cars was environmentally friendly, helped them avoid problems with traffic and parking and is part of the future of transportation.
Councilmember John D'Amico, a supporter of the electric scooters, noted the age gap between the supporters of electric scooters and their opponents. "This is the first time this many people under 35 have shown up for anything," he said of the number of scooter system supporters in the Council Chambers.
D'Amico said he was disappointed that the Council, at an earlier meeting, had rejected a City Hall proposal to do a six-month pilot test of rented electric scooters in favor of an outright ban.
"It breaks my heart to see that our city is turning out back on young people in this way," D'Amico said.
Other Council members supported a ban, noting the risks that the unlicensed vehicles posed for people walking on the city's sidewalks and the risks to scooter drivers who don't wear the helmets required by law.
Electric scooters have begun appearing on city streets across the country in recent months. A number of cities such as San Francisco and Santa Monica initially fought them but now are implementing pilot programs to figure out how to regulate them. Los Angeles also plans to implement such a program.
A rider can find a scooter using a mobile phone app and then rent it on the spot. The typical price is an initial fee of $1 and an additional 15 cents per minute The companies that own them use GPS tracking to discover where a rider leaves a scooter and then alert other prospective riders to its location. Scooters that are not picked up by other riders are retrieved up by the owner at some point in the day. The scooters are called "dockless" because they aren't stationed at any designated location.
State laws enacted before the recent surge in popularity of such scooters allows anyone 16 years of age or older to ride an electric scooter with a maximum speed of 15 miles per hour. However, that person must have a driver's license or permit and must wear a helmet. The driver cannot carry a second rider on the scooter. Also the driver cannot ride on a city sidewalk but must ride in a bicycle lane. If there isn't a bicycle lane available, which is the case on most of West Hollywood's streets, the scooter must be in a car lane. However, the state bars scooters from riding in such lanes on streets with a speed limit of more than 25 miles per hour, which would include most WeHo cross streets such as Santa Monica Boulevard and Fountain Avenue.
In explaining his opposition to the scooters, Councilmember John Heilman called out a recent incident where he encountered a blind person walking on the sidewalk on Santa Monica Boulevard who was approaching a scooter left parked in the middle of the sidewalk. Heilman said that if he hadn't moved the scooter out of the way, the pedestrian might have been injured.
Heilman also objected to the way scooter companies such as Lime and Bird had promoted their scooters by dropping them on city streets without working with the city to regulate them. On March 30, dozens of Lime scooters suddenly appeared on city sidewalks.
"I resent businesses thinking they can use the public right of way," Heilman said. "If you want to work with people, you come to them in advance and say we'd like to work with you in your city. You don't come in after the fact …"
Councilmembers Lauren Meister and Lindsey Horvath and Mayor John Duran noted the lack of infrastructure in West Hollywood to support travel by scooters. Duran said traveling on sidewalks is a particular problem.
"Our sidewalks are part of the commons and we already have severe competition for what happens on the commons," Duran said, noting the presence of sidewalk cafes and people walking their dogs
Horvath suggested the city look into possibility of allowing local businesses such as hotels to partner with the scooter companies so that they could drop off scooters on the businesses property. Meister said the city should take a look at ways it might deal with the infrastructure issues in the future.