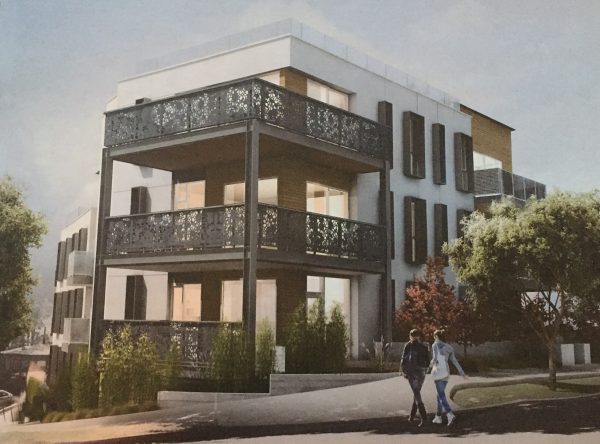 A second critique session of a proposed apartment building on the southwest corner of Fountain and Laurel avenues became contentious on Thursday afternoon when residents, unhappy with the project, got into a shouting match with members of the Design Review subcommittee of West Hollywood's Planning Commission.
This second session was held because residents did not receive promised notification about the Design Review critique session of the project that was held on June 28. While the residents present were given time to express their opinions about the four-story, 30-unit apartment complex at 8000 Fountain Ave., they wanted to hear the architect's presentation and the commissioners' comments and grew angry when their request was denied.
Commissioner John Altschul said the architect's presentation and their critique had happened during the June 28 meeting and there was no need to repeat it. This second session was only to give residents a chance to weigh in.
Resident Victor Omelczenko said this was unfair to residents since a summary of their June 28 comments was not in the staff report and warned the city could be opening itself to legal action.
Altschul declined to repeat his comments, but Commissioner David Aghaei did sum up his opinion from the first meeting, saying the project was "not stellar, but acceptable."
Commissioner Sue Buckner, who called the project "adequate" while urging the architect to "bring it up a notch or two" at the June 28 meeting, was absent from this meeting, but Commissioner Lynn Hoopingarner sat in for her. Hoopingarner called the project "unremarkable," adding that it lacked articulation.
"My first opinion was, 'Oh good, another white stucco building with some brown wood'," said Hoopingarner. "I don't think it really lends itself to a remarkable design."
Architect Hamlet Zohrabians of the Glendale-based Zohrabians Architects and Builders also declined to repeat his presentation.
The 8000 Fountain project will have a ground-level center courtyard with a swimming pool and recreation center, plus rooftop gardens and two levels of underground parking. Seven of the 30 units will be set aside for low-income residents.
If approved, the project will replace a two-story, 13-unit apartment building built in 1932 in a style that seems a mix of art deco and Spanish Colonial revival.
Residents were unhappy with the boxy, contemporary design, feeling it was not compatible with the neighborhood, which has over 40 historically designated buildings within a four-block radius.
Resident Lynn Russell said the current design was a decent starting point, but has "a long way to go," noting it should be respectful of the historic buildings in the area.
Resident Brian Hamilton, who lives directly across the street, said the proposed building "looks like a medical plaza." Resident Cynthia Blatt said it was too large for the corner lot and looked like it was being shoehorned in.
Meanwhile resident Kimberly Copeland, who lives nearby, felt the city should demand more than "adequate" from proposed new buildings.
"We're a seller's market. We don't have to beg people to come and demolish buildings and make new ones that are 'adequate'," Copeland said. "Lately it seems like most of the designs we get are very similar, not remarkable . . . I don't think we've seen how good we can get yet."
Likewise, resident Kay MacLaine who lives nearby, felt it was too boxy and was too similar to other projects going up around town. "These are designs that first-year architects could do," she said.
Other residents were concerned about the building's lack of guest parking spaces, noting the Center City area already has a severe shortage of street parking. They also were worried about the extra traffic the project would bring and about the parking garage entrance on Laurel being so close to the intersection.
The project is owned by a group called Fountain Blue Holdings LLC, which bought the property in 2016.
1040 La Brea
A proposed luxury boutique hotel at 1040 La Brea Ave., just south of Santa Monica Boulevard, returned for a final critique session after getting earlier critiques in August 2017 and May 2018.
The project is nine stories and 110 feet tall with a total of 67,000 square feet on a half-acre site. It will have 88 hotel rooms plus another eight residential apartment units, as well as a ground-floor restaurant and a rooftop bar. It will also have four levels of parking (one subterranean, three above ground).
Architect Neil Denari of the Los Angeles-based NMDA Architects showed the grey metallic panels they plan to use for the building's façade. These panels will change color slightly as sunlight reflects off them from various angles throughout the day.
The commissioners liked the metal panels, but Hoopingarner worried they might reflect the sunlight too intensely and blind people on the street, similar to how the Disney Concert Hall in downtown Los Angeles did when it first opened. Denari said the panels will have a dull finish that doesn't blind people.
Aghaei and Altschul both said they loved the metal panels, calling them integral to the building's design. Aghaei said any change in that façade or the metal panels would be considered a major change that requires Planning Commission approval.
Denari also presented slightly revised designs that move the eight apartment units to the southern end of the building, two units on each of the top four floors. The apartments will have a separate elevator and entrance from the hotel portion.
At the May critique session, Denari said those apartment units would be rented for extended stays of 31 days or longer. However, since the city is now cracking down on apartment rentals of less than one year, a representative of the CIM Group, which owns the building, told WEHOville the apartments will now only have one-year leases.
Hoopingarner expressed concerns about the four-story wall of the parking garage on the southern end of the project, urging them to consider using a metal mesh or something else to break up the solid wall so it will be more appealing.
The project is currently scheduled to go before the full Planning Commission for approval on Sept. 6.
8760 Shoreham Drive
The commissioners were happy with designs for Shoreham Lofts, a three-story, 11-unit apartment building on the southwest corner of Shoreham Drive and Sherbourne Drive, just north of Sunset Boulevard. It replaces a two-story apartment building.
With large balconies that have ornate, lace-like railings reminiscent of Paris or New Orleans, the commissioners felt the project had a European feel. They especially liked the fact the project had curves and angles, rather than a square, boxy design that so many other projects have.
Hoopingarner said the curves help "soften" the building, while Aghaei felt the angles helped make the building unique. Altschul recused himself from the critique since he lives within 500 feet of the project.
Owned by Shoreham Capital LP of Beverly Hills, Shoreham Lofts was designed by Santa Monica-based architect John Mebasser.