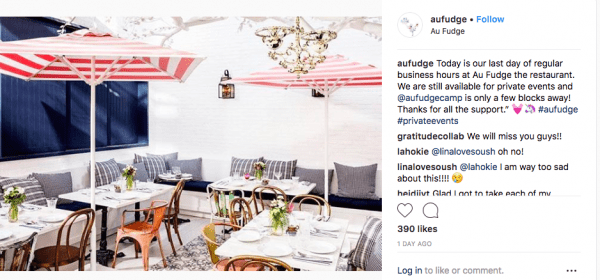 Oh Fudge!
Yes, Jessica Biel's Au Fudge restaurant closed on Sunday, which Au Fudge confirmed in a post on Instagram.
The restaurant, located at 9010 Melrose Ave. in WeHo's Design District,, opened in March 2016. It combined a slightly pricey and very California menu (vegan and gluten free cauliflower steak, for example), with a long list of not-so-healthy desserts, a menu whose popularity was amplified by Jessica Biel's fame as an actress, model, producer and singer and for being married to Justin Timberlake. And then there was its focus on kids, with Au Fudge including creative spaces where they could play and a kids camp that apparently will still be active.
Gossip media such as US Weekly and the Daily Mail jumped on the story this morning, citing sources who said Biel claimed she wasn't making enough money.
Biel and Au Fudge experienced other troubles in the restaurant's brief run. In September 2017, workers at Au Fudge filed a lawsuit alleging they were owed tips as well as money for overtime and missed meal and rest breaks. dropped their lawsuit against Jessica Biel and her West Hollywood restaurant, Au Fudge. Court papers were filed in Los Angeles Superior Court last month on behalf of Christina Desage and the other plaintiff employees asking that their case be dismissed "without prejudice," meaning the case can be brought again later if it makes sense to do so.
The documents did not state whether a settlement was reached or if the case was being dropped for other reasons.
"Many of them saw working as a waiter or other service employee at Au Fudge as a way to get by while trying to begin a career in the entertainment business," according to the suit filed by the employees' attorney, Keith Davidson, who was sued by adult film star Stormy Daniels in Santa Monica Superior Court last month.
Daniels alleges Davidson and President Donald Trump's personal attorney, Michael Cohen, secretly worked together to persuade her to appear on Fox News and falsely deny that she had an affair with Trump a decade earlier.
The plaintiffs in the Au Fudge lawsuit sought unspecified compensatory damages and at least $1 million in punitive damages.