Local members of MoveOn.org are staging an event Wednesday evening at Plummer Park that is billed as a candlelight vigil to "counter corruption and protect democracy."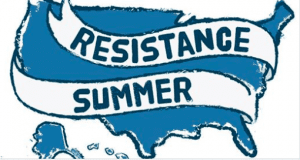 The event will take place at 7 p.m. on the Great Lawn by Fiesta Hall, which is at 7377 Santa Monica Blvd. Similar vigils are expected to take place across the country.
Those attending are invited to use a "candle" app on their cellphones. The vigil will be peaceful. It comes shortly after President Donald Trump stunned local, national and world leaders with an appearance in Denmark with Russian President Vladimir Putin at which he denied evidence by U.S. intelligence agencies that Russia had gotten involved in the 2016 election. Faced with criticism, Trump said today that he had been misunderstood.
The vigil is free and open to the public. Free parking is available for up to three hours in parking lots in the park entered through Martel or Fountain