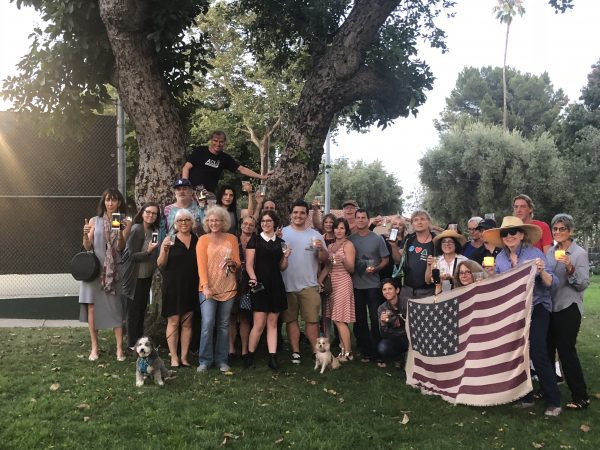 Several dozen residents turned out this evening for a public meeting in Plummer Park to discuss ways they might work against Donald Trump and the policies he has instituted since he was elected president.
The meeting was organized by Roy Rogers Oldenkamp, a West Hollywood resident who also is president of the westside chapter of the American Civil Liberties Union. WeHo City Councilmember Lauren Meister was one of those who attended. It was billed as an effort to "counter corruption and protect democracy."
Meister, Oldenkamp and many others raised questions and made suggestions that largely focused on the upcoming Nov. 6 midterm elections. Many Democrats and activists on the left hope that they will be able to secure a Democratic majority in the U.S. House of Representatives in that election.
A major point of discussion was how to encourage people to register to vote and then to actually vote. Local resident Cathy Blavis pointed out that Trump was elected in a 2016 election in which there was a typically low turnout. The U.S. Census Bureau reported that 61.4% of the country's voting age population cast votes in the 2016 election.
Among the other topics was volunteering to participate in phone banks to encourage people to vote and reaching out by telephone to GOP legislators to lodge objections to certain Trump Administration policies.