The evolution of West Hollywood's Sunset Strip continues with the sale of the property on the south side of Sunset from San Vicente Boulevard to Larrabee street for $80 million.
The sale, first reported by L.A. Business Journal, includes the building that currently houses the famed Viper Room nightclub at 8852 Sunset Blvd. Other businesses on the block are the Aahs costume store, Bar Code barber shop, the Liquor Market and Ta-Ke Sushi and Amarone restaurants. It also includes a lot at 1029 Larrabee just south of the intersection with Sunset. The businesses are housed for the most part in one-story buildings.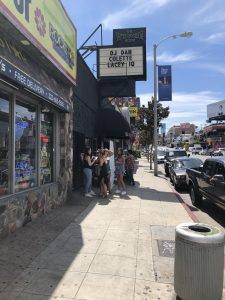 The Business Journal quotes CoStar, the real estate market analytics company, as saying the businesses, with their rear parking lots, cover 16,000 square feet of the 38,000 square feet of land on which they sit. The buyer is identified as 8850 Sunset, a limited liability company based in Scottsdale, Ariz., whose public records don't disclose its owner. However, a representative for the company has said it hasn't yet decided what to do with the property, on which it closed on June 15. The demolition of the buildings on that block for construction of new ones is likely to draw objections from fans of the Viper Room, which remains a popular rock music club. It originally was a jazz bar called the Melody Room, a hangout of mobsters Bugsy Siegel and Mickey Cohen. It became a club called the Central in the 1970s and 1980s. Then Johnny Depp and others bought it and turned it into the Viper Room in 1993.
The purchase is another in a long series of changes on the Sunset Strip that led Businessweek, in a 2014 story, to say the sound that best identifies the Strip these days isn't rock music but that of "buildings being demolished and new ones developed."
Among the changes are the planned closure of the Hustler store and its replacement by the exclusive London-based Arts Club, the demolition of the famed House of Blues to be replaced by the Sunset Time and the opening of new hotels such as the Jeremy and soon the Edition.