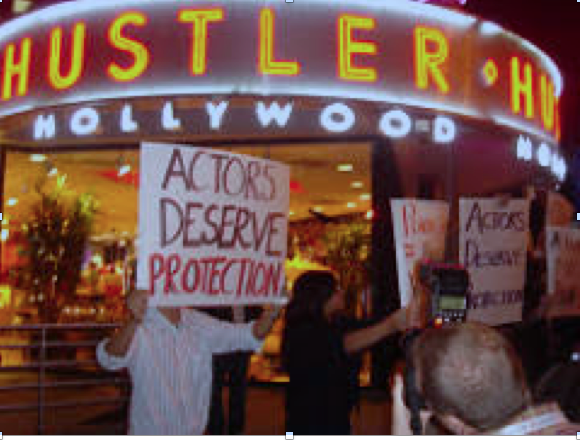 Hardcore porn publisher Larry Flynt was making his mark on West Hollywood well in advance of opening the Hustler Hollywood sex superstore in 1998 on the corner of West Sunset Boulevard and Hilldale Avenue.
He drew the ire of one group or another that took to the Sunset Strip to stage protests before and after the opening of the first of what would become a national chain of 24 adult boutiques selling sex toys, risqué novelties, videos, lingerie and coffee – sort of an upscale, but very, very naughty Starbucks.
A photo from the Los Angeles Herald-Examiner's Oct. 30, 1983, edition shows a protest underway on Sunset Boulevard with the caption, "Children and parents decide picketing outside the Roxy is (the) way to fight Larry Flynt." It's not clear why the Roxy was chosen for picket lines or what, specifically, triggered the group's interest.
Possibilities abounded that year, especially when Flynt's feud with Moral Majority leader Jerry Falwell went nuclear. Flynt's Hustler magazine jokingly described Falwell's first sexual encounter as having been with his mother, "drunk off our God-fearing asses" in an outhouse, Vice.com reported.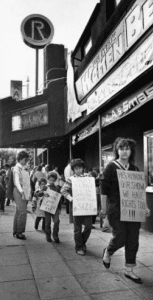 That was also the year Flynt showed up in court, in his wheelchair, wearing only an American flag as a diaper, his belly flopping over the stars and stripes. He became so outraged during the session, he threw an orange at the judge, according to the Hollywood Reporter.
Flynt further began sending the raunchy and low-brow Hustler to every member of Congress in 1983 as his way of petitioning the government. It was no accident that every issue contained "Asshole of the Month," a recurring column dedicated to the character assassination of politicians and anti-porn activists, as noted in the Washington Post. But hey, everybody does something well.
Compared with the magazine, Hustler Hollywood is pretty tame. The Sunset Strip store will be closing to make way for a nine-story, mixed-use building that will house the first Arts Club in the United States and the only one outside of the United Kingdom, where the organization is based.
Flynt earlier this year opened a new location at 6520 Hollywood Blvd., in the heart of Hollywood, as the successor to the flagship West Hollywood store. In a relatively brief 20 years here, the sex boutique has still done its part in contributing to the city's history.
Condom Campaign
The AIDS Healthcare Foundation (AHF), beginning in 2009, made Hustler Hollywood on the Sunset Strip ground zero in its aggressive, years-long battle for a statewide law requiring the use of condoms by actors in porn videos produced in California.
Flynt's Hustler label was targeted with protest marches and press conferences in front of the store because, AHF claimed in a news release, it was "condom optional." That was tantamount to meaning that any actor who wanted to use condoms in the production of video pornography probably wouldn't work again, the organization said.
"Since Flynt is an influential leader in this business, and because of his previous outspoken opposition to requiring the use of condoms by adult entertainment actors, AHF has chosen to renew its call for legislation requiring the use of condoms in porn in front of Flynt's Hustler Hollywood," AHF said in a statement.
Many protests apparently followed, as indicated by a headline in Adult Video News later that year that stated, "Another Night, Another Protest at Hustler Hollywood." In 2010, AHF began filing health hazard complaints against Flynt with the California Department of Industrial Relations, Division of Occupational Safety and Health, the newspaper reported.
The issue wasn't fully settled statewide until 2016, when California voters rejected a ballot measure that would have written mandatory condoms into state law once and for all, according to Slate.com. A similar initiative was successfully passed in Los County in 2012, however, the website notes.
Block of Fame
The sex emporium was home to an upscale porn walk of fame, one of two in the city, except Hustler Hollywood calls it a Block of Fame. Various adult legends have pressed their hands and feet – and no other body parts – into the cement in front of the store, beginning with publishers Al Goldstein and (naturally) Flynt. Handprints of Ron Jeremy, Jenna Jameson, Belladonna and "Behind the Green Door" star Marilyn Chambers are also on display, according to LAist.com.
Its Block of Fame has been moved to the new Hustler Hollywood store, according to its website. The other local porn Walk of Fame is in front of the Studs Theater on Santa Monica Boulevard and honors actors Linda Lovelace, John Holmes, Marilyn Chambers and Harry Reems.
Finally, Hustler Hollywood has been a venue for public discussion of topics important to its business, the Los Angeles Times reports. "The Southland's venues for public debate are as wide-ranging and fragmented as the region itself. Consider the Hustler Hollywood monthly series at which topics such as censorship and politics, how to be – or how to surrender to – a dominatrix and readings by erotic novelists attract a diverse crowd leaning toward women and club-goers," the newspaper states.
And let's not overlook the value in being unexpectedly free of distractions, despite all of its provocative merchandise. The sex store has been an ideal spot for business people to grab coffee and work away from their offices. Screenwriter John Orloff told the Los Angeles Times in 2004, "Another screenwriter suggested it to me because it was empty," he said. "I would show up at 9 or 10 a.m. People don't buy sex toys in the mornings."