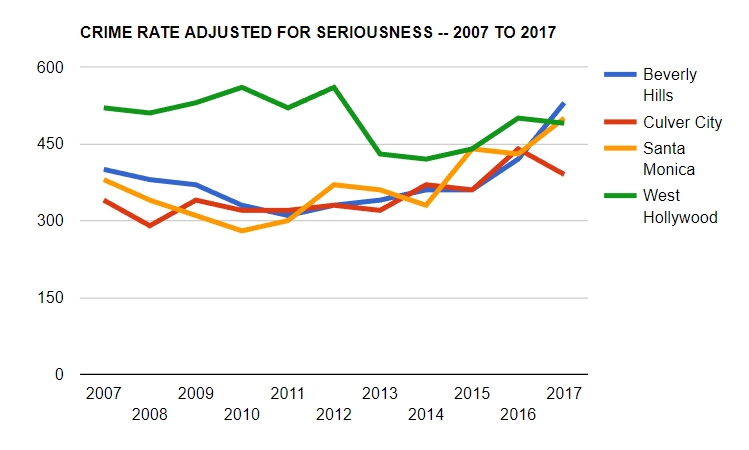 Last year, for the first time since West Hollywood became a city, it had less crime than both Beverly Hills and Santa Monica. That is according to a new report by WeHo by the Numbers based on crime and population data published by the state.
West Hollywood had almost 2,000 reported "Part 1" violent or property crimes in 2017. That works out to an average 0f five per day. The FBI-defined list of Part 1 crimes includes homicide, rape, aggravated assault, robbery, burglary, theft, motor vehicle theft (also known as grand theft auto), and arson.
Thefts made up two-thirds of the crimes. Close to half of the thefts (or roughly 30% of all Part 1 crimes) were from vehicles. More serious crimes were less common. The city averaged one homicide a year and two rapes a month. The average week had two stolen cars, two aggravated assaults, two robberies and four burglaries. About a third of the robberies involved a weapon and half of the burglaries were of homes.
The report starts by using the crime rate to compare West Hollywood to nearby cities. The crime rate is the number of Part 1 crimes per 100,000 residents. The rates were roughly 5,600 for Beverly Hills, 5,500 for Santa Monica, and 5,400 for West Hollywood. The differences were not large, but it was the first time West Hollywood's crime rate was lower than that of Beverly Hills. It was also the first time since 2001 that West Hollywood's rate was lower than that of Santa Monica.
The report then switches to a metric that takes into account differences in the seriousness of each type of crime, such as homicide versus petty theft. If, for example, a city's mix of crimes is 10% more serious than the state average, then the city's crime rate is adjusted up by 10%. The adjusted rate is expressed per 10,000 residents.
In 2017, the adjusted crime rates were approximately 530 for Beverly Hills, 500 for Santa Monica, and 490 for West Hollywood. After taking into account the seriousness of crimes, West Hollywood still had somewhat less crime than Beverly Hills and Santa Monica. It was the first time that has happened since West Hollywood became a city.
The accompanying chart shows how the gap between West Hollywood and the two nearby cities closed over the last few years. For example, in the final year from 2016 to 2017, West Hollywood crime declined slightly (-2%), while it grew in Beverly Hills (27%) and Santa Monica (15%). Those percentages are based on adjusted crime rates, but growth in the actual crime counts was similar.
To find out more, see the full report, Is crime higher in West Hollywood than nearby cities?