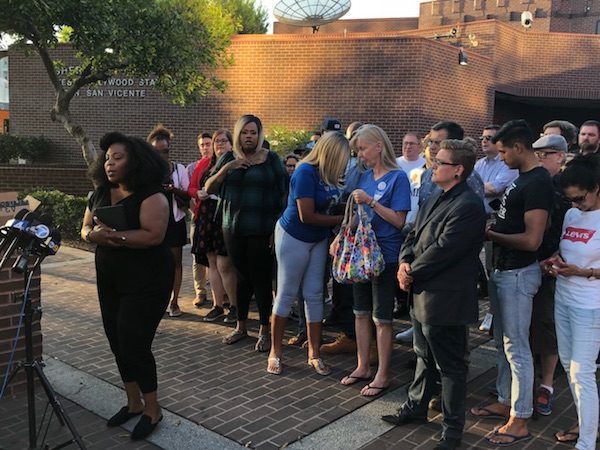 The family and friends of Gemmel Moore were among a group of about four dozen people who stood outside the West Hollywood Sheriff's Station tonight to condemn the investigation of his death by the L.A. County Sheriff's Department and call it out as an example of racial and class discrimination.
Moore, a 26-year-old black man, was found dead on July 27, 2017, in the Laurel Avenue apartment of Ed Buck, 63, a well-known white political donor, surrounded by drug paraphernalia and pornography. Buck is known for entertaining young black men, some of whom identify as escorts, at his apartment. On the day he died, Moore, who lived in Los Angeles but had been visiting his mother in Texas, had flown from Dallas to Los Angeles on a ticket paid for by Buck, who invited him to his apartment. The L.A. County Coroner's office initially ruled that Moore's death was an accident because of an overdose of methamphetamine.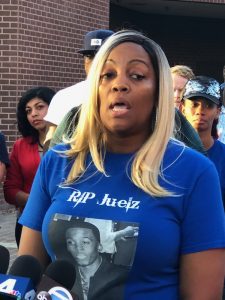 Under pressure from Buck's family and West Hollywood City Councilmember Lindsey Horvath and L.A. City Councilmember Mike Bonin, the Sheriff's Department opened an investigation into the death. On Thursday, L.A. County District Attorney Jackie Lacey's office announced that there was insufficient evidence to charge Buck with being complicit in Moore's death.
Buck's attorney, Seymour Amster, has repeatedly said that his client is innocent. Amster said that Buck took young black men in in an effort to care for them.
Amanda Laflen, a member of the city's Public Safety Commission, attended the event along with fellow commissioners Tory Berger and Robert Oliver. She read a statement from Councilmember Horvath, who was out of town, in which Horvath strongly criticized the justice system and the District Attorney's unwillingness to file charges and cited the investigation of Moore's death as an example of racial and class bias.
"The life of a thoughtful, caring and giving 26-year-old young man was cut short due to unthinkable circumstances," Horvath's statement read. "More young men have since come forward, sharing their concerns of similar encounters. Yet our justice system has said that their stories don't matter, that their truth is irrelevant. It has told the members of our community that possessing narcotics, using narcotics, luring impressionable young LGBT people without resources into sex – that all of these acts are none of their concern. That anyone facing these issues is on their own. Without support. Alone."
"We have seen this story before. Black people struggling with addiction are responsible for their own fate. White people, on the other hand, deserve our sympathy and require recovery services and national awareness campaigns."
Horvath, the only City Council member who has been vocal in her concerns about the incident, also criticized others for not speaking out about it. "We … know that if Gemmel was born into a different family, if he came from a different walk of life, if Gemmel looked like me – there would be mass outrage."
Horvath's mention of other young black men coming forward was a reference to apparent testimony to Sheriff's detectives from other young escorts after the District Attorney's office agreed to grant them immunity from prosecution for prostitution.
Jasmyne Cannick, a communications and public affairs strategist working with Moore's family, revealed tonight a video taken by another young black man at Ed Buck's apartment on May 5 of this year. In the video, he and Buck discuss making "points," which is a slang term for a needle used to inject the drug and also used as a term of measurement. Buck apparently had purchased a ticket to fly him back to Dallas. The video can be seen online here.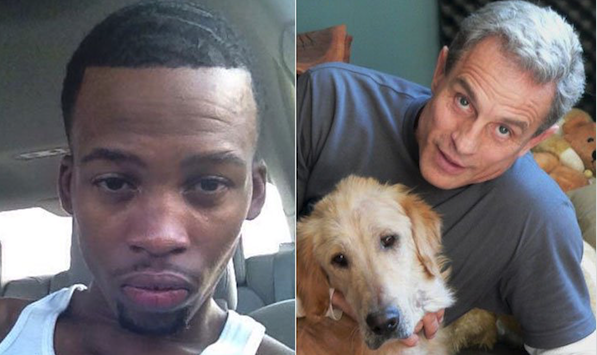 West Hollywood Mayor John Duran was criticized at the event. Hussain Turk, a young gay lawyer and activist who lives in West Hollywood, noted that Duran at a City Council meeting last year had warned young men against coming forward to testify against Buck because they could be prosecuted themselves on prostitution or drug charges. Turk described that as an effort to protect Buck from other possible witnesses and noted that Buck had been a donor to Duran's election campaigns.
Moore's mother, LaTisha Nixon, told the crowd that she wasn't surprised that charges were not brought against Buck, given what she saw as the reluctance of the Sheriff's Department to pursue the investigation.
However, Nixon said she was not going to end her efforts in the matter. "No more Gemmel Moores," she said, citing his death. "I'm definitely not going to go away. Ed Buck needs to be stopped."