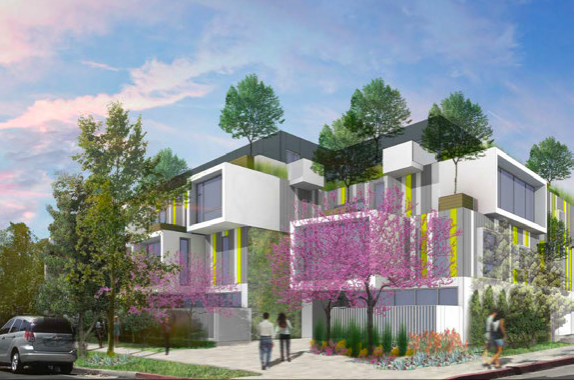 The West Hollywood Planning Commission on Thursday will be asked to approve a project proposed for 939-949 N. Spaulding Ave. at Romaine Street that will involve demolishing eight apartment units and replacing them with 22 condo units, four of which will be affordable.
The developer is asking the Commission to approve a fourth floor not to exceed 10 feet in height, an exemption from a required set back of six feet for the second and third floors and a reduction in the front yard setback to 15 feet.
A memo to the Planning Commission from the Department of Community Development says "Overall, the proposed project meets the general plan goals, the housing and affordable housing goals, the multi-family development standards, is well-suited
for the subject site, is thoughtfully designed, and is complementary to the context of the neighborhood. Therefore, staff recommends approval of this project."
The project will have 48 parking spaces on two underground levels accessible from Romaine Street.
At previous community meetings the original project design was criticized by neighbors for a number of things, including its height, elimination of some redwood trees, the belief by some that its style didn't blend with that of other buildings and even the size of the building number on its façade. The revised plan to be presented Thursday is intended to address those concerns.
Also on the Commission's agenda is a proposal by the City Council to require that the top floors of multi-floor residential buildings in the R3-C and R4-B residential districts be set back at least 15 feet from the front of the floor beneath. And it will consider a several alternatives developed by the Community Development Department staff to address a proposal recommended by the City Council to require projects spanning commercial and residential districts to be developed as though the lots were not being tied, with separate buildings meeting all development standards of each zone district (i.e. setbacks, height, density, open space, parking, loading, etc.)
The Commission will meet at 6:30 p.m. at the City Council Chambers at 625 N. San Vicente Blvd. Parking is free in the five-story structure behind the Chambers with a ticket validated at the meeting.