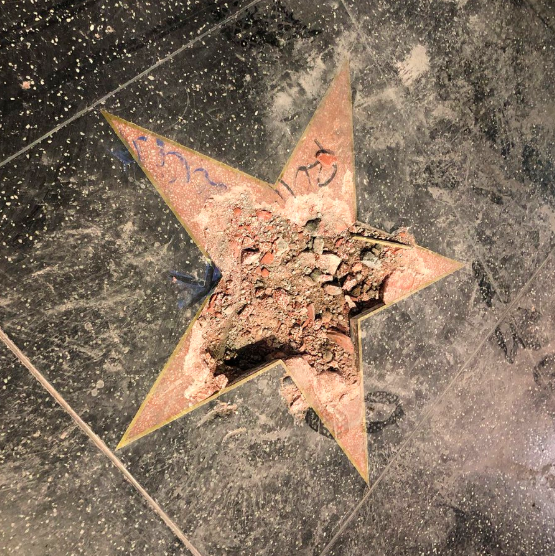 The West Hollywood City Council, some of whose members have stepped up their focus on Donald Trump in recent months, will consider Monday whether to ask that the Donald Trump star be removed from the Hollywood Walk of Fame.
The proposal, brought forth by council members John D'Amico and Lindsey Horvath, would have the city reach out to the Los Angeles City Council and the Hollywood Chamber of Commerce to remove the star. The Trump star has been vandalized several times since Trump was sworn into office as president in 2017, and there have been raucous demonstratons around it.
Trump received a star on the Walk of Fame in 2007 for his work as producer of the Miss Universe Pageant. Subsequently he also starred in "The Apprentice."
A document explaining the proposal calls out Trump's treatment of women, including his efforts to cover up allegations of abuse. "Similar to how certain members of the entertainment community have been removed from the Academy of Motion Pictures, due to their actions toward women, reflecting a stance on their values by the Academy, this is an opportunity for decision-makers to take a stand on their values in support of women and against disturbing treatment of women," the document states. It also cites a number of other actions or statements by Trump such as withdrawal from the Paris Climate Agreement, reversal of a policy to allow transgender people to serve in the military and the separation of migrant children from their parents at the U.S. border with Mexico, all of which "have not met the shared values of the City of West Hollywood, the region, state and country."
The Walk of Fame is a nearly two-mile stretch of sidewalk on Hollywood Boulevard and Vine Street created 40 years ago. In it are imbedded 2,500 coral terrazzo and brass stars dedicated to famed members of the entertainment industry.
The most recent fight around the star occurred on Sunday, when Los Angeles Police Department officers tried to keep Trump fans away from Trump haters. One man, a Trump opponent, was arrested.
In July a man used a pickax to smash the star. He later turned himself into the police. In October 2016 the star was attacked by a man carrying a pickax and a sledgehammer. He was sentenced to three years probation and 20 days of community service fined $4,400 for the damage. The City of Los Angeles is responsible for repairing such damage.
The West Hollywood City Council's aversion to Trump reaches back as far as May 2016, when then-Mayor Horvath mailed a statement to her supporters and to Trump saying he was not welcome in West Hollywood. That statement got national attention, with Horvath interviewed on MSNBC and CNN. There have been a number of other protests against Trump and his policies since then. Mayor John Duran declared May 23 "Stormy Daniels Day" to honor the porn actress whose lawsuit against Trump has raised questions about his fidelity. Duran also hosted last week a panel discussion with Michael Avenatti, the lawyer representing Daniels, and other political figures to discuss politics in Washington.
The proposal is on the City Council's consent agenda, which is a long list of proposals that the Council can support in one vote unless a particular Council member pulls it for futher discussion. The Council will meet on Monday at 6:30 p.m. in the City Council Chambers at 625 N. San Vicente Blvd. Parking is free in the five-story structure behind the chambers with a ticket validated in the lobby.