A celebration of Rita Norton's 95th birthday on Sept. 1, 2015, with daughter Marcy in photo at bottom left and photographer and friend Richard Settle in photo at bottom right.
UPDATE: Funeral services for Rita Norton will be held this Sunday at 12:30 pm at Mt. Sinai memorial park and cemetery (Hollywood Hills location), located at 5950 Forest Lawn Drive. A reception will follow at Plummer Park Community Center in West Hollywood, rooms 5 & 6, until 6 pm.
Rita Norton, for many years the face of the West Hollywood Library, has died of pulmonary complications. She was 97.
From 1971 to 1993, Norton was the first face people saw upon entering the library, which was then located in a small 5,000-square-foot building immediately north of the swimming pool in West Hollywood Park. Norton worked the front desk and served as reference librarian, helping thousands find the information and books they wanted.
Norton's official title was "library assistant," but everyone viewed her as the one in charge. During periods when the library was between official librarians, Norton was the person who ran everything.
Always sensitive to who her patrons were, in the 1970s, Norton made sure the library carried what few gay-related books were available. In the 1980s, Norton assured the library carried as much information as possible about AIDS, even going so far as to arrange a special computer link to the National Institutes of Health for people to access the latest AIDS information.
After her retirement in 1993, Norton stayed involved with the library, becoming the president of the Friends of the West Hollywood Library, an organization she helped found in 1973 when a tight library budget would not allow the library to purchase everything it needed.
Norton was honored by the city and the West Hollywood Library in December 2012 with the dedication of a special plaque in the Friends of the West Hollywood Library Bookstore, which is located off the auto court area in the new West Hollywood Library building (the smaller library building where Norton had worked was demolished in September 2011, a few weeks before the opening of the new, larger library).
Just prior to that dedication ceremony, her daughter, Marcy, said that working for the West Hollywood Library was one of the joys of Rita Norton's life.
"Mom loved every minute of the job and doesn't understand why she's being honored for doing her job," Marcy Norton told WEHOville in December 2012. "I told her it's because of the way she did her job. She doesn't think that was anything special. She just thinks that was doing her job."
Known for her sharp wit and quick mind, Norton could entertain people for hours with her stories. Longtime friend Ruth Williams said that she, Norton and several other friends routinely celebrated birthdays and special occasions together.
"Nobody could beat Rita Norton when it came to wit and stories," Williams told WEHOville. "She had a wonderful zest for life and could captivate you with her stories. She was an amazing woman and I mean that in capital letters."
Norton and daughter Marcy were regulars at the old Silver Spoon diner on Santa Monica Boulevard (at Havenhurst Drive), eating there almost daily until it closed in 2012. Marcy told WEHOville they would often go to the Silver Spoon for lunch, but would run into so many friends they would stay for hours talking and telling stories. Sometimes they stayed so long, they ended up ordering dinner too.
Born Rita Liberman on September 14, 1920, in Norfolk, Virginia, she was the oldest of two children (her brother, Arnie Liberman, was born in 1922). The family moved to Milwaukee when she was five, and then moved to Chicago a year later. Since she spent her formative years there, Norton considered Chicago to be her hometown. She attended Hyde Park High School, located in the city's Woodlawn section which was then a middle-class, white neighborhood on the city's south side.
When it came time for college, she was accepted at the University of Chicago, managing to get in despite the fact that the university admitted few women and few Jewish people at that point. She earned her bachelor's degree in sociology.
She married attorney Raymond Norton on April 11, 1943, shortly before he was due to enter the Army. During World War II, she worked for the United States Treasury handling U.S. Savings Bonds.
After the war, Raymond Norton worked as a senior trial attorney with National Labor Relations Board, but later returned to school to study electrical engineering, a field in which he had been assigned during World War II as part of the U.S. Army Air Forces (the precursor of the US Air Force).
When Raymond got a job working for the aerospace industry, the couple moved to Los Angeles in 1958, living for many years in the Carthay Circle area. They moved to an apartment on Kings Road in West Hollywood in August 1981. Raymond eventually left the aerospace field and returned to practicing law. He died in 2006.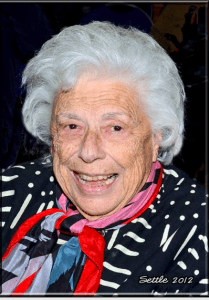 Rita Norton becoming a librarian was a serendipitous event. After being active in the PTA at her daughter's school for years, she was asked to become PTA president in 1968. Not wanting to serve in that role during the tumultuous first year of court-ordered busing to achieve racial integration, Norton lied and said she couldn't be president because she'd just gotten a full time job.
Scared of being caught in a lie, Norton then set out to find a job. Because she had volunteered at her daughter's school library, Norton applied for a job in the LA County Library system. She was quickly hired and worked for three years at other branches before transferring in 1971 to the West Hollywood Library, which was then just known as the San Vicente branch library.
Co-workers noted how good she was at her job and encouraged Norton to get her master degree in Library Sciences. However, Norton refused.
"Mom didn't want to be in the back and dealing with all the paperwork," Marcy Norton said in that 2012 interview. "She wanted to be out front and dealing with the people."
Norton not only acted as librarian, she also became a surrogate mother to many of the gay men who came into the library.
"They'd cry on her shoulder during a break up or if their family had cut them off," said Marcy. "Back when the AIDS crisis was first hitting, everyone was so scared, but Mom made sure the library had as much HIV and AIDS information as possible. That's why she got the computer link to the National Institute of Health, so they could have the latest information available."
In 1993 when the county library system was facing a severe money crisis, Norton agreed to retire so that other library staff wouldn't be laid off. She was 73 at the time, but remained actively involved, serving as the president of the Friends of the West Hollywood Library until 2011.
During that time, she advocated relentlessly for a new, bigger library in West Hollywood. She served on several task forces related to the library and was overjoyed when the new building finally opened in Oct. 2011.
Although she'd been involved with the City of West Hollywood from its inception in 1984, she joined the city's Senior Advisory Board in 2000 as an at-large member. Later, Councilmember Jeff Prang named Norton as his direct appointee to that board. Finally in 2015, declining health forced her to resign.
"Rita was a treasure in the West Hollywood community. She was an institution in the city even prior to cityhood," Prang, who now serves as the LA County Assessor, told WEHOville. "She was passionate about civic engagement. If she thought you strayed from what was right or what were the city's principles, she would let you know about it."
Longtime family friend Norman Chramoff called Norton the "one of the classiest, funniest, smartest and most loyal people I've ever met. She never failed to entertain and delight. She will be missed."
Marcy, born in 1952, was Rita Norton's only child.
Funeral arrangements are unclear at this point.