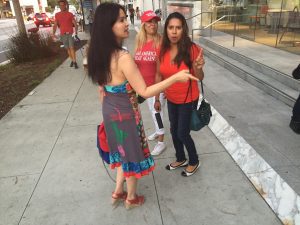 A meeting at which the West Hollywood City Council unanimously approved a resolution asking the Los Angeles City Council and Hollywood Chamber of Commerce to remove President Donald Trump's damaged star from the Hollywood Walk of Fame was disrupted by barrage of catcalls from Trump supporters and a verbal attack on a transgender man.
Two Latina Trump supporters, Ingrid Mueller and Arely Posz, shouted out things like, "He's your president," "Hashtag Walk Away," and "He's lying," while various residents spoke in favor of the resolution. When James Wen, a member of the city's Transgender Advisory Board, offered his support for the resolution, Posz shouted out, "You're not transgender, you're a woman."
Mayor John Duran had asked the two women to be respectful of the other speakers earlier and warned he might have sheriff's deputies remove them from the council chamber, but never followed through with it, although deputies did motion several times for them to be quiet.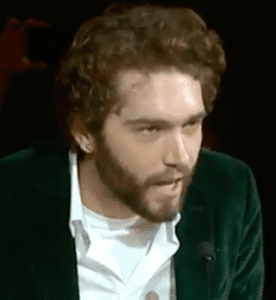 However, upon hearing that comment, Duran promptly chastised Posz, saying, "We do not speak to members of the transgender community with such horrible remarks."
Posz shouted back at Duran, "That wasn't horrible. It's freedom of speech."
Duran responded, "It's freedom of speech and now I'm exercising mine. Transgender people have full equality in this city and in the state of California."
Many in the audience then broke into a round of thunderous applause, but Posz kept shouting, "She's a woman. She's a woman."
Later, in the auto court outside the meeting, the women hurled insults at Austin Mikel Clay, the man who took the pickax to Trump's star on the Walk of Fame on July 25. They called Clay a "faggot." When they saw Clay and a friend had a pack of cigarettes, they repeatedly said, "He's a smoker. He's going to get cancer. He deserves cancer."
Earlier, during her turn at public comment, Mueller, a Beverly Hills resident who described herself as a "Mexican for Trump," said Trump would "make California great again." She said she was appalled at Clay's using the pickax on Trump's star. "For the person to go there and destroy the star is absolutely disgusting. Very rude," she said.
Posz, a Los Angeles resident, followed Mueller at the comment podium, saying the star needed to be restored and that America should be proud of Trump.
"We need to be proud, be proud of what's happening in our country. Be proud of that star," said Posz. "He needs a gold star because that's what he's earning."
Both women said they had disliked President Barack Obama but never spoke against him publicly. Posz said Trump was correcting everything that had happened under eight years of "Obamanation," a play on the word "abomination."
Several other people, seemingly unconnected to Mueller and Posz aside from their support for Trump, also spoke against removing the star.
Greg Susetto said that an "attack on one star is an attack on all stars" and asked respect for Trump's star. Meanwhile Linda Culpepper said she had slowly come to like Trump and believes he's doing a good job.
An equal number of people spoke against Trump and in favor of recommending the star's removal
.
Resident Steve Martin applauded the Council for taking a stand and noted how Trump goes out of his way to alienate people and divides the country rather than unite it. Beverly Hills resident Rory Emerald, who described herself as a tree lover, urged removal of the star, and said, "Donald Trump is the cancer that kills trees."
During his time at the comment podium, James Wen, who is Duran's appointee to the Transgender Advisory Board, noted that military stars are awarded to great leaders, but reminded how Trump, as commander in chief, had weakened national security by announcing, via a Tweet last summer, that he planned to remove transgender people from the military.
Resident Tom Demille was disturbed by all the hateful talk in the room, saying he was disgusted by the destruction of property and reminded that people should be respectful of the office of President. He suggested inviting Trump to West Hollywood to discuss issues such as transgender rights.
Meanwhile Austin Mikel Clay, who attacked the star with the pickax, said Trump is "unethical, fraudulent and a liar."
"The star had a definite negative energy both before and after I had committed vandalism," said Clay, who suggested he attacked the star to preserve the integrity of the Walk of Fame as a landmark.
"I believe it is a threat to the public safety with all the violence that is erupting over the star in its current condition," said Clay. "I could see someone getting seriously hurt over the star."
Clay, 24, was charged on Monday with felony vandalism for destroying te star. He is set to be arraigned on Aug. 15 and could face up to three years in jail if convicted.
Later in the meeting, while another council member was speaking, Duran, a lawyer, briefly came into the audience to give Clay his business card.
The Council's resolution asking for the removal of the star cited Trump's "disturbing treatment of women" and other actions that do not reflect the values of the City of West Hollywood and the region as justification.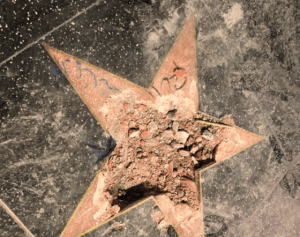 Councilmember John D'Amico said he does not endorse Clay having a vendetta against the star. However, D'Amico said he wrote the resolution hoping to use it as a way to nudge the L.A. City Council and Hollywood Chamber of Commerce to re-examine the qualifications for who can get a star on the Walk of Fame.
"Getting a star is a privilege, it's not a right," said D'Amico. "You have no right to a star on Hollywood Boulevard just because you're famous."
Meanwhile, Duran, who has been a longtime critic of Trump, agreed a nudge might be helpful even though the City of West Hollywood has no power over the Walk of Fame.
Duran explained he supported the resolution not because of Trump's conservative politics, but because of Trump's abuse of "women, minorities, immigrants, the disabled."
"Once you start to trend into the territory of abusing the citizens of the United States and those who choose to live here, you've crossed a line of decency," Duran said. "Unfortunately, some of the comments made by the Trump supporters tonight are a reflection of that anger and angst and divisiveness. If anyone ever needed to solidify my vote on this, the Trump supporters who showed up tonight and the way in which they handled themselves pretty much solidified what we're doing is right."
Councilmember Lindsey Horvath said she was proud the West Hollywood community was taking a stand on this issue, like it had done on so many other issues before.
Councilmember Lauren Meister did not mention Trump's star in her comments. Councilmember John Heilman was absent.
As the meeting ended, Horvath commended Duran for skillfully handling a difficult meeting. Horvath also apologized to James Wen for the hurtful things the women said to him and thanked Wen for handling the situation gracefully.
As he adjourned the meeting, Duran concurred, saying "James, we all got your back."