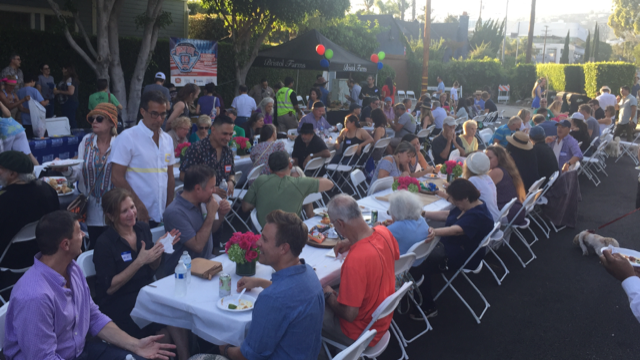 Hundreds of West Hollywood residents gathered in their neighborhoods last night to celebrate National Night Out, an annual event meant to promote partnerships with public safety officers and the people they serve in cities across the nation.
However, as the photos below show, NNO also is a way for those of us who live in West Hollywood to take a break from our routines and get to catch up with our neighbors. They also are an opportunity to meet officers from the local Sheriff's station such as Capt. Sergio Aloma and city leaders such as Mayor John Duran and City Council members.
Last night's events were as varied as the pet-focused Ogden Drive National Night Out and the event in West Hollywood West that featured "Fox 11 News at Noon" anchor (and Ashcroft resident) Bob DeCastro announcing hundreds of dollars of raffle prizes.
Photos on the pages below show you what you missed. But don't worry, National Night Out will be back next year.
Pages 2 -9. Russian Advisory Board National Night Out at Plummer Park (photos courtesy of Stephanie Harker)
Pages 10-23 Ogden Owls National Night Out (photos courtesy of Stephanie Harker)
Pages 24-27 The Gateway National Night Out (photos courtesy of Stephanie Harker)
Pages 28-32 Plummer Park National Night Out (photos courtesy of Stephanie Harker)
Pages 33-36 Smurf Screen during National Night Out (photos courtesy of Stephanie Harker)
Pages 37-43 West Hollywood Heights National Night Out (photos courtesy of Elyse Eisenberg)