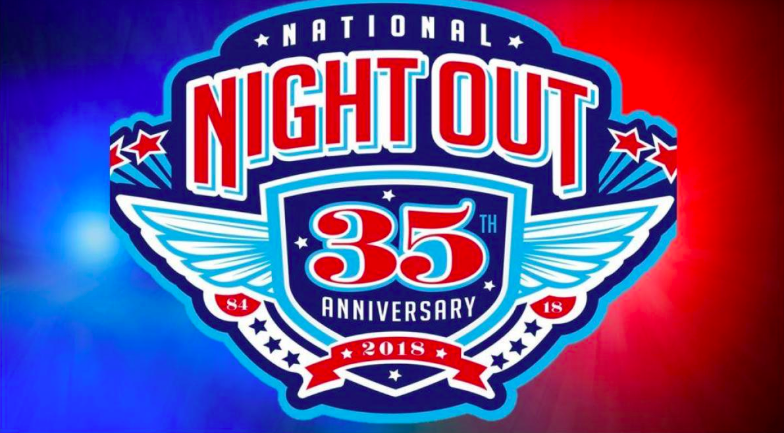 This past weekend I was super excited to get a text from Mayor John Duran asking what I was doing for National Night Out. "No plans yet sir." "Want to come with me in the sheriff car Tuesday night and hit as many events as we can?" Duran asked. I almost jumped out of my chair! "Yes sir, thank you!" Then the Mayor said, "Meet me at the Sheriff's station at 6 p.m.
We greeted Deputy Neff who reserved a nice car for us, one of those white undercover cars. He said it would be more comfortable than a black and white. John and I looked at each other. He spoke up first. The black and white is more fun! Mayor Pro Tem John D'Amico called and asked to ride along. Wow, I thought. This National Night Out is really special.
The mayor opted to head east to the Ogden block party first. It was crowded, and we bumped into Councilmember Lauren Meister and Councilmember Lindsey Horvath. They had both come separately but in a complete coincidence wound up at the same place at the same time. Residents there warmly cheered the Council's decision to recommend the removal of the Trump Star on Hollywood's Walk of Fame. The Mayor and Mayor Pro Tem D'Amico were so open and so warmly greeted.
Lindsey rode a train up Ogden drive. One resident railed at me about the city forgetting its renters and I had to tell her that I'm not on the City Council. "See that cute girl riding on the choo-choo train?" I said. "That's Councilmember Lindsey Horvath. Go talk to her. And see that guy laughing over there in the grey tee shirt.. that's your mayor. This was community engagement raw and open. Then of course there were fabulous Shake Shack burgers supplied by Faring. In order to get a Shake Shack burger you had to wait on a line and sign a mailing list to get a ticket so that the developer could contact you when its project came in front of the City Council. Community engagement works both ways.
The seats in the back of the Sheriff's car are the hard plastic type. It's not comfortable. In fact, it is completely uncomfortable. We all took turns riding shotgun. Our next stop was West Hollywood West. We were requested to be there at 6:45 and arrived on time. West Hollywood West had an incredible turnout. I'd guess in excess of 200 people. Neighbors met neighbors, officers engaged residents, Sheriff's Captain Sergio Aloma made the rounds talking to all. West Hollywood West was the only neighborhood group that took up my offer from Block Party for a gift certificate and free tee shirt for their raffle. Much credit to the West Hollywood West Neighborhood Association for their incredible effort.
Time was flying. There was not enough time for the mayor and mayor pro tem to meet and greet everyone. They never had a chance to eat or drink one thing. We had to bolt and booked up to the WeHo North event. The sheriff's station was keeping track of the other gatherings and some had already closed. There was a great showing on the top of Horn Avenue of super-friendly residents. Josh Kurpies from State Representative Richard Bloom's office was there and gave Elyse Eisenberg a proclamation (probably for her world famous cupcakes), and the crowd was intimate and loving. Would have been fun to stay but we had to keep moving and try to catch one last one.
The sheriff's station told us the other event on the east side by Plummer Park also had closed so we took a shot at the Larrabee/Palm event. We stopped to see Tom DeMille and company at the Actors Fund building where everybody was relaxed and chatted. I loved watching both John Duran and John D'Amico bring their open hearts to all the residents, relaxing on the couch laughing about life. And I also learned about the many threats our city council members have been getting. To Protect and to Serve is not only for the officers. Our council members serve the public and put themselves in harm's way to protect our values.
But, despite the fun we can do better. Not all neighborhoods had a National Night Out event. Some neighbors were calling council members asking why their neighborhood was not having an event. I wondered out loud if we could update our approach to the National Night Out event. Should each district have an appointed captain so that all neighborhoods are covered? West Hollywood West's event had so many donations from local restaurants and businesses, but perhaps other neighborhoods do not have the ability to attract as much food and donations. Perhaps City Hall can help appoint or elect the heads of neighborhood watch groups directly so that every neighborhood has a point person. We might also consider budgeting a base amount of dollars for each neighborhood group to provide a minimum amount of product for the event to engage all the communities in an even-handed manner. I understand the council has a budget for each group, but it has to be claimed and seems unclear. Let's start early next year and make sure every neighborhood has the same wonderful engagement with our City Council members and the Sheriff deputies that I was lucky enough to enjoy.
National Night Out is a community-police awareness-raising event in the United States, held the first Tuesday of August. The event is held across the nation and is typically organized by Neighborhood Watch groups.