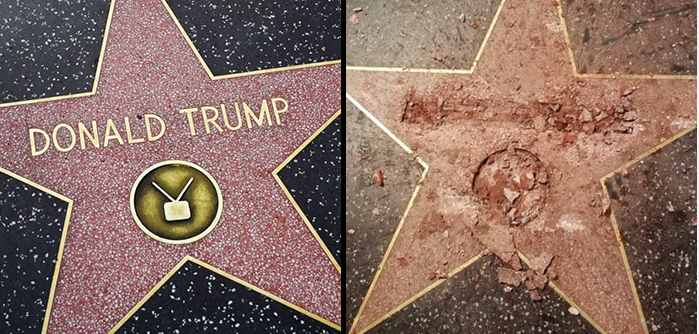 It probably won't generate tourism, the most important part of West Hollywood's economy. But the WeHo City Council's request that the Donald Trump star be removed from the Hollywood Walk of Fame has generated lots of media coverage for the city  and its council members. The last time WeHo got this sort of worldwide press likely was in 1984, when the city was incorporated as the first in the nation (and likely the world) with a majority LGBT City Council.
The City Council's resolution was introduced by Councilmembers Lindsey Horvath and John D'Amico, both of whose seats are up for re-election in March. Horvath and D'Amico cited Trump's abusive behavior toward women as a major reason for removing the star.
The coverage has come from as far away as Asia, where the Straits Times of Malaysia reported "Council votes to remove Trump's star from Hollywood Walk of Fame," (actually, West Hollywood has no control over the Walk of Fame in Los Angeles' Hollywood district".) Xinhua, the official state-run press agency of the People's Republic of China, also jumped on the story, reporting: "Politicians call for removal of Trump's Hollywood Walk of Fame star."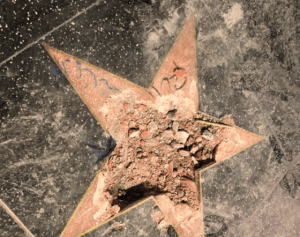 At least one of Russia's state-owned media outlets jumped on the story. "Trump's Star Voted Off Hollywood Walk of Fame," reported Sputnik News, a news agency, news website platform and radio by Russian government-owned news agency Rossiya Segodnya.
Every network in the United States and almost every television station on the West Coast reported the story. It even drew headlines in small town newspapers in states like Ohio and Kentucky, and nationally prominent papers like the Washington Post and The New York Times.
The City Council's resolution also provided media fodder for right-wing commentators. "LIBERAL RAGE: Hollywood Passes Bill to REMOVE Trump's 'Walk of Fame' Star," said a headline on Sean Hannity's website.
The City Council's vote for the resolution also became fodder for entertainment celebrities.
On Tuesday night's "Jimmy Kimmel Live," Kimmel essentially said the Trump star on the Hollywood Walk of Fame is none of West Hollywood's business.
"Trump's star isn't in West Hollywood where they voted, it's in Hollywood, and one has absolutely nothing to do with the other," Kimmel said. "West Hollywood and Hollywood are like Virginia and West Virginia, they're unrelated, which means there's no reason for the West Hollywood city council to be voting on this."
"They didn't install his star. They didn't pay for his star, and when the star gets damaged, it doesn't cost them anything. This is none of their business," Kimmel said.
That's not to say that Kimmel was making a statement in support of Trump. He argued that one reason for keeping the star in place is that the Hollywood Boulevard Walk of Fame is "sidewalk is filthy, disease-ridden, and urine soaked." Kimmel noted that Trump's star also is adjacent to that of Kevin Spacey, who also has been accused of of sexual misconduct.
Mark Hamill recommended replacing Trump's star with one honoring Carrie Fisher. Fisher, whose parents, Debbie Reynolds and Eddie Fisher, have their own stars on the Walk of Fame, died in December 2016. Rules governing the Walk of Fame say that anyone who has passed away cannot be nominated for a star until five years after death.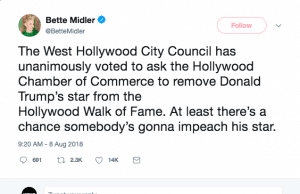 Bette Midler weighed in on the issue in a tweet posted yesterday. "The West Hollywood City Council has unanimously voted to ask the Hollywood Chamber of Commerce to remove Donald Trump's star from the Hollywood Walk of Fame. At least there's a chance somebody's gonna impeach his star."
The vote on the resolution also drew an unlikely group of Trump supporters to Monday's City Council meeting, some of whom were criticized by Mayor John Duran for making rude and demeaning remarks to a prominent transgender resident. John Leonard, the manager of community and legislative affairs at City Hall, acknowledged that the city and its council members had received a large number of rude calls and emails, a few of which were threatening, from Trump supporters. Leonard said the messages appeared to come from well outside Los Angeles. He said the city's public safety director reviewed the threatening emails and decided they didn't pose a risk to safety.
Mayor Duran cited callers in a Facebook post in which he reiterated a description of West Hollywood that was a feature of his inaugural speech.
In his Facebook post, Duran said: "To the caller who threatened to come here and 'shoot up faggots' – WEHO is a small town with big city issues. For 100 years, West Hollywood has stood out as a place where all are welcome. We are non-conforming, hedonistic, artistic, rebellious, unusual, colorful, outlandish, notorious, flamboyant, undefined, gender fluid, loving – and probably the closest thing to BOHEMIA in Southern California."
Perhaps the most surprising comment on the issue came from Los Angeles Mayor Eric Garcetti, who recommended keeping the star in an interview with TMZ.
"Look I think we should be focused less on sidewalk brawls and more on replacing the Congress that enables him," Garcetti said of Trump. "That's where we should put our energy in. Look, every moment we're out there fighting these fights and he's on his Twitter feed are moments we can actually be registering voters and actually flipping Congress
"All this has turned into a circus, and it's back and forth. The more we get trapped into playing their game, yelling back and forth and symbolic gestures – I'm into real work."
Anyway, Garcetti noted, the star can't be removed because it's a historic, cultural monument.
"Ignore it, walk by it and just do some good work," he said.