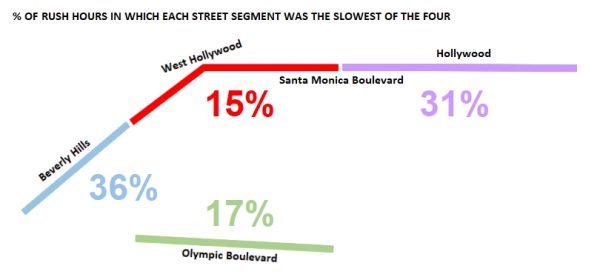 West Hollywood's rush-hour traffic is not usually the slowest or the fastest among four nearby areas. However, the city's non-rush-hour traffic is often the slowest of the four. That is according to a new report by WeHo by the Numbers.
The report does not try to compare speeds on all streets in West Hollywood to all streets in nearby communities. Instead, it compares speed estimates for Santa Monica Boulevard in Beverly Hills, West Hollywood, and Hollywood, plus a stretch of Olympic Boulevard. The speed estimates are for driving from one end of the city to the other, including time spent at red lights.
"In a limited sample from last year, the drive across West Hollywood on Santa Monica Boulevard took an estimated 7 to 24 minutes. The same data source suggests the trip can take up to 40 minutes, but times like that were not captured in the sample. The biggest delays were mostly during the rush hours. Many non-rush hours also exhibited significant delays.
During a recent sample period in West Hollywood, the fastest end-to-end speeds were around 25 miles per hour. The slowest speeds were under 10 miles per hour. About 95% of the times with the slowest speeds were rush hours. Speeds in non-rush hours were higher, though not necessarily high. For example, 70% of the times that speeds were between 10 and 15 miles per hour were during non-rush hours.
West Hollywood's rush-hour traffic was rarely the slowest among the four areas. That occurred only 15% of the time during rush hours. That was similar to the situation on Olympic Boulevard (17%). Beverly Hills and Hollywood, on the other hand, had the slowest traffic 36% and 31% of the time, respectively.
West Hollywood had the fastest rush-hour traffic only 16% of the time. Olympic was the rush-hour winner, with higher speeds 38% of the time.
The pattern was different for non-rush-hour traffic. West Hollywood's non-rush-hour traffic on Santa Monica Boulevard was often the slowest of the four in the sample period. It was the slowest 73% of the time and the fastest only 3% of the time. The slower non-rush-hour speeds were spread across weekdays and weekends, days and nights. Saturday night stood out.
The Beverly Hills (8%), Hollywood (9%), and Olympic (10%) street segments were rarely the slowest during non-rush hours. Olympic was the fastest almost half the time.
To find out more, see the full report, Is traffic slower in West Hollywood than nearby areas?