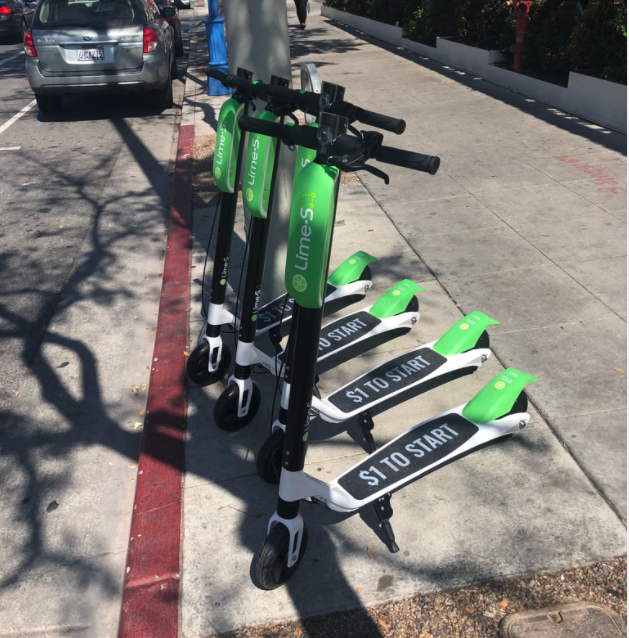 The West Hollywood City Council on July 9 voted to ban companies from leaving electric scooters for rent on city sidewalks and streets. Since then, residents report still seeing people (mostly young ones) riding scooters on city sidewalks and streets, usually without helmets.
However, a statement last night from Lt. Edward Ramirez of the West Hollywood Sheriff's Station to the city's Public Safety Commission and a memo from Tara Worden, an assistant city planner, indicate that enforcement is underway.
Ramirez said that since January deputies have issued 31 citations to scooter riders, mainly for driving on sidewalks or on streets where the speed limit is greater than 25 miles per hour. It also has issued eight citations for riding motorized skateboards on the streets.
While those practices are illegal, the ordinance passed by the City Council in July does not totally ban the use of electric scooters. Those who rent them from companies such as Lime and Bird outside the city limits are allowed to ride them into West Hollywood, so long as they follow laws banning riding on sidewalks and requiring helmets and don't leave them on city sidewalks when the ride is over.
In her memo, which will be presented to the city's Transportation Commission Wednesday night, Worden said the city's Code Enforcement Division has received 33 complaints since June 1 (largely about abandoned scooters on sidewalks). However, she said, "the frequency of the complaints has dropped to two per week in late July."
Worden said the city has been meeting with representatives of Bird and Lime and that they "have been responsive in correcting issues cited in the complaints."
"As a result of working directly with representatives from Bird and Lime, staff has noticed that the practice of placing devices in the public right-of-way has dramatically decreased," Worden's memo said. "The drop zones (the places where riders are supposed to leave the scooters) are outside of the city, and the devices that appear in West Hollywood do so as a result of users riding them into the city boundaries. Furthermore, minimal staff time has been required for the enforcement of this ban."
Worden said the city has suggested that Bird and Lime address public safety concerns by "hosting free helmet give-away events, and/or conducting 'how-to-ride; user safety classes for the public." ASB Bank Online Banking LoginAsheville Savings Bank Online Banking LoginAssociated Bank Online Banking LoginAstoria Bank Online Banking LoginAstra Bank Online Banking LoginAthens State Bank Online Banking LoginAthol Savings Bank Online Banking LoginAtlantic Capital Bank Online Banking Login Online Banking strives to provide the most simple login tutorials for online banking across the USA. Some banks have their online banking login proces Atlantic Coast Bank Online Banking LoginAtlantic Community Bank Online Banking LoginAtlantic Stewardship Bank Online Banking LoginAuburn Banking Company Online Banking LoginAuburn State Bank Online Banking LoginAuburnBank Online Banking LoginAudubon Savings Bank Online Banking Login She said the city also has asked those companies, the largest electric scooter rental firms, to indicate West Hollywood's boundaries on the mobile phone apps used to rent them and make it clear that parking them on the public right-of-way is against the law."
Worden said that both companies were willing to do that but haven't yet made the changes in their mobile apps.
Worden said that representatives from Bird and Lime also have followed up on a recommendation by City Councilmember Lindsey Horvath that they consider negotiating drop off zones at local businesses on their private property. She said the companies have been discussing the idea with the West Hollywood Chamber of Commerce, to discuss potential partnerships with local businesses.