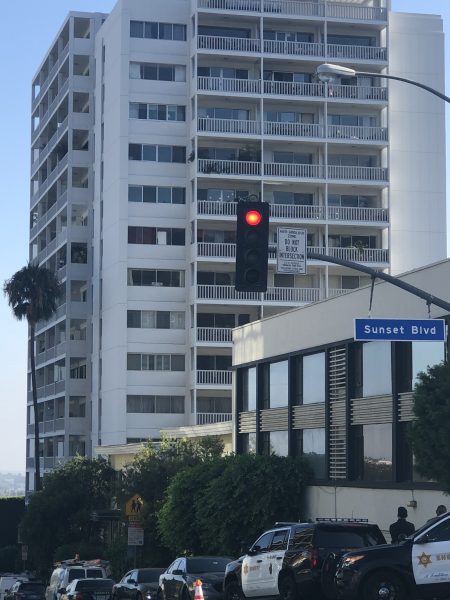 At about 5:30 p.m. today, Sheriff's deputies arrested a man holed up in his condo at 999 North Doheny Drive who allegedly had been firing a gun and had been throwing his belongings out of the window and off the balcony of his second-floor unit.
Deputies were alerted to the incident around noon and summoned the Sheriff's Department's Special Weapons Team and a crisis negotiation team.  Sunset Boulevard was closed in both directions from San Vicente Boulevard in West Hollywood to Corey Avenue in Beverly Hills.  North- and southbound traffic was blocked on Doheny from Sunset to Phyllis Avenue.
The man arrested has yet to be identified. Capt. Sergio Aloma of the West Hollywood Sheriff's Station said a criminal investigation would begin now that he is in custody.
The man was said by neighbors to suffer from a mental illness and to have upset others in the building by his behavior at other times.  Officials said the standoff may have stemmed from a landlord/tenant dispute.
Reports from the scene indicated the man was nude and had thrown numerous objects from a first or second-floor apartment and fired shots during the standoff, but no injuries were reported.