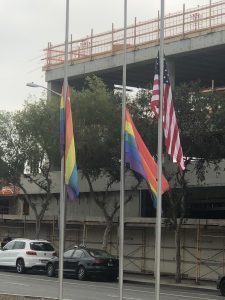 When it comes to commemorating the late Sen. John McCain (R-Ariz.), the White House has been as erratic in its display of the American flag as it has in its relationship with North Korea.
The City of West Hollywood, however, quickly lowered its flags to half-staff and intends to keep its flags at half-staff  until the interment of McCain, a long-serving and somewhat iconoclastic Republican member of the U.S. Senate who was appreciated among Democrats for his willingness to challenge his own party on certain issues and to speak truth to power.
President Trump had ordered that the flag atop the White House be briefly lowered to half-staff on McCain's death two days ago and then quickly had it raised again. The City of West Hollywood, which follows federal practice on this matter, did the same. But facing pressure from his staff and GOP leaders, Trump finally agreed yesterday afternoon to order that the flag atop the White House be flown at half-staff again until McCain's interment in Annapolis on Sunday. Up to that point, The New York Times reported, there was "only one building in Washington where Mr. McCain's legacy and achievements (were) greeted with anything like ambivalence: the White House."
In West Hollywood, flags representing the city, the State of California and those that symbolize the LGBT community will be at half-staff until McCain's burial.