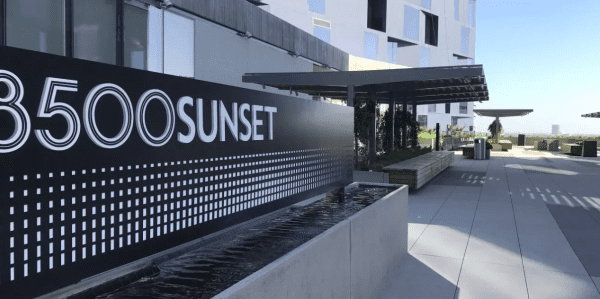 The West Hollywood City Council next week will hear a complex appeal of a ruling involving the West Tower at 8500 Sunset Blvd. that may require a law degree and copy of the Merriam-Webster Dictionary to fully understand.
BPREP 8500 Sunset LLC is appealing a ruling by John Keho, interim director of the city's Planning & Development Services Department, that rentals of apartments in the building for less than one year are a violation of the city's zoning laws. BPREP is a limited liability company whose owners include Brookfield Properties and Korman Communities, which operates luxury extended-stay hotels under its AKA brand. The city Planning Commission already rejected an earlier appeal of Keho's decision.
If the council upholds Keho's decision, it will effectively block Korman Communities from using the 110-unit building for luxury short-term rentals. Korman operates such "serviced residential" properties, typically used by corporate executives and others traveling for work, in New York City, Washington, D.C., Philadelphia, London and Beverly Hills.
Tuesday night's hearing is the latest development in a nearly 20-year effort to develop three parcels of land on either side of the intersection of Sunset and La Cienega boulevards. In 1999, a developer operating as Sunset Millennium Associates got the city's permission to develop a 371-room hotel and 208,000 square feet of office space on the property. In 2005, the city agreed to amend its agreement with SMA to permit two hotels with 811 parking spaces and two condominium buildings with 268 parking spaces. In 2011, the city agreed to cut the parking requirement by 385 spaces and eliminate a proposed tunnel under La Cienega Boulevard that would connect two of the parcels. In 2017, the CIM Group bought the property and requested minor changes, including permission from the city to use the condominium units as residential apartments. Then later that year, CIM Group sold the two residential towers on the southwest corner of Sunset and La Cienega to BPREP.
What once was known as the Sunset-La Cienega project now consists of 100,000 square feet of retail space (including the Equinox gym and the H&M apparel shop) and a 10-story office building on the southwest corner of Sunset and Alta Loma. On the southeast corner of Sunset and La Cienega is the Jeremy hotel, which consists of two 10-story towers with 296 hotel rooms, along with 15,000 square feet of retail space. The Korman buildings are located on the southwest corner of Sunset and La Cienega.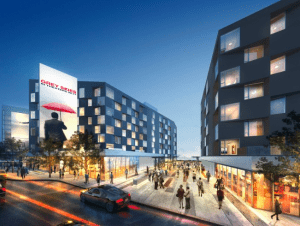 A story in the Los Angeles Times that described Korman's plans to use the properties as an "extended stay hotel" prompted the city to send a letter to the property owners saying such a use is illegal. Korman responded by announcing in July 2017 that it would rent out the 80 units in the East Tower as conventional unfurnished apartments. The 110-unit West Tower, where nine units are set aside as affordable apartments, would be rented as furnished extended stay units, but with a stay of at least 31 days. Extended-stay hotels typically are used by corporations to house executives on business trips and offer rooms with amenities such as kitchens that aren't found in regular hotel rooms. Keho ruled that Korman's change of use still put it in violation of the city's zoning code, which bans short-term rentals
Tuesday night's debate likely will turn on how one defines "short-term rentals" and "corporate housing" and whether Korman's use of the building for stays of as little as 31 days meets the city's definition for "long term housing." The 37 documents provided by both sides to the City Council frequently cite Merriam-Webster Dictionary definitions in making their cases.
Korman's use of the West Tower for "extended stay" rentals is opposed by the managers or owners of most of the city's hotels, who have submitted letters stating their opposition to what they view as a competitor who isn't required to pay the tax levied on hotel rooms. The city's opposition to extended-stay corporate rentals stems from its effort to keep landlords from taking housing units off the regular rental market at a time when the greater Los Angeles area is struggling with a shortage of housing. That also was a major factor in the City Council's decision to ban short-term rentals of apartments to visitors through services such as Airbnb.
Costar, owner of the Apartment.com apartment rental website, is trying to rally owners of apartment buildings in West Hollywood to support Korman's appeal. In an email to apartment building owners, it argues that Keho's decision "removes flexibility from both landlords AND renters looking to live in West Hollywood."
Korman won a similar battle in 2012 in Beverly Hills. It purchased an 88-unit building at 9355 Wilshire Blvd. and 155 N. Crescent Dr. and turned those apartments, with tenants who typically signed one-year leases, into housing for corporate executives or wealthy celebrities who would be in town for at least a month. That met the requirements of Beverly Hills, which deemed short-term rentals those of fewer than 30 days.
Then Korman quickly reached out to the Beverly Hills Planning Commission and City Council, asking that it be permitted to rent apartments for as few as seven days. The City of Beverly Hills granted Korman's request, effectively making what once was an apartment building into an Airbnb for the affluent, where units now rent for as much as $1,000 a night for a minimum of seven days in a building that includes a 24-hour resident service team, a high-tech fitness center, a full-service business center with executive boardroom and free high-speed Internet access, a lounge, a cafe, ensuite dining, same-day valet dry-cleaning and laundry service.
The West Hollywood City Council will meet at 6:30 p.m. Tuesday at the Council Chambers at 625 N. San Vicente Blvd. south of Santa Monica. Parking is free in the five-story structure behind the chambers with a ticket validated in the lobby.