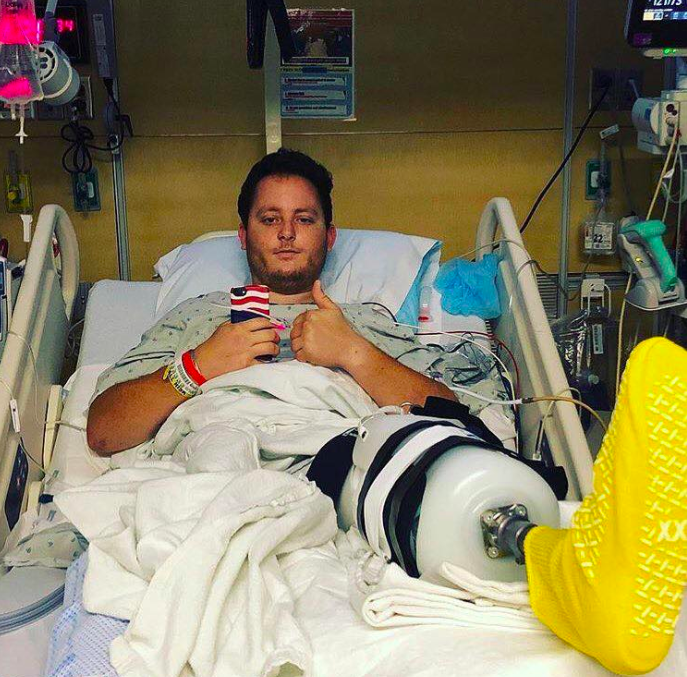 Friends of West Hollywood Sheriff's Deputy Garrett Rifkin have set up a GoFundMe page to help cover medical expenses associated with a hit-and-run accident that resulted in the amputation of his leg.
On Aug. 3, Rifkin, 25, was on a motorcycle headed to work in West Hollywood from his home in Santa Clarita when he was hit by a car near the intersection of Fountain and Formosa avenues.
The driver fled the scene and was arrested that night.
Los Angeles Police Department and Fire Department workers arrived at the scene and sent Rifkin to Cedars-Sinai Medical Center, where a decision was made to operate on his foot. To date, Rifkin has had six foot surgeries and finally agreed to have his left leg amputated below his knee.
In an interview with the Santa Clarita Valley Signal, Rifkin said he agreed to the amputation because otherwise he would have to undergo muscle and skin grafts that would make it impossible to run and would mean he walked with a limp. After the amputation and rehabilitation he would be able to run, and to continue his work as a deputy.
"If I can't run, I can't be a deputy, or run with my future kids," said Garrett, whose father Bob Rifkin, is a retired LA Sheriff's Department captain.
His leg was amputated on Aug. 22. Rifkin currently is at the California Rehabilitation Institute in Century City.
Because Rifkin was on his way to work and not actually on the job when the accident occurred, there are limits on what workers compensation can cover. Friends launched the GoFundMe page on Aug. 4, which to date has raised $19,152 of its $50,000 goal. On Aug. 25, over 250 bikers gathered in Marina Del Rey to raise money to support the recovery of Rifkin, an avid biker.
Rifkin also has received valuable emotional support from his family, his girlfriend Michelle Furnari, and his fellow deputies at the West Hollywood Station, who have visited him frequently at the hospital.
"I miss everything so my goal is to go back to work full duty," Rifkin told the Signal.