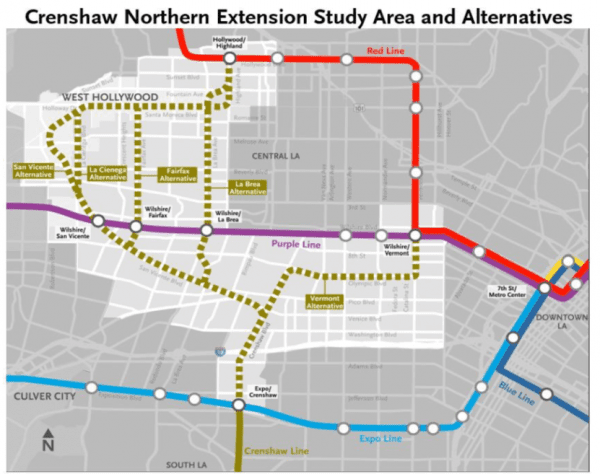 Residents of the city's West Hollywood West neighborhood and members of the City Council spoke out Tuesday night against the idea of an elevated Metro line along San Vicente Boulevard, with some also expressing concern about a possible elevated line along La Cienega Boulevard.
The comments were made as the West Hollywood City Council was considering whether to endorse a proposal by the city's Community Services Department that it push Metro to conduct a full environmental impact report on the proposed northern extension of Metro's Crenshaw/LAX line through West Hollywood. The proposal also called for City Hall to work with Metro to reach out to local residents and businesses about options for the Crenshaw Northern Extension.
Metro is considering five options for the extension, four of which would have an impact on West Hollywood. In addition to running the extension along La Cienega or San Vicente, Metro is analyzing an underground route along Fairfax Avenue from San Vicente Boulevard to Santa Monica Boulevard in West Hollywood and also an elevated train above La Brea Avenue from just north of San Vicente Boulevard in Los Angeles to a station on La Brea at Santa Monica, from which there would be either an elevated or underground train to Hollywood Boulevard. The fifth alternative, which would run the extension along Vermont, would be outside West Hollywood.
Leslie Karliss, speaking for the West Hollywood West Residents Association http://www.whwra.org/, expressed concern about the impact on the neighborhood of an elevated train along San Vicente. She said that an analysis by Metro of the options shows that the benefit of an extension along San Vicente isn't significantly better for riders or businesses than the other options, nor that much more expensive. However an elevated rail extension along San Vicente would "cut in half an established family of single-family residents and would have a negative environmental impact," she said.
Karliss's concerns were echoed by Richard Giesbret of WHWRA and Kimberly Winnick, another resident of the area. Winnick described the stretch of San Vicente from Melrose to Santa Monica Boulevard as a "festival space" bordered on the west by West Hollywood Park and the West Hollywood Library and on the east by the Pacific Design Center with its large open plaza. "Together they can be a fabulous public space, but not if you have an El down the middle of it," Winnick said, using a term to describe an elevated train.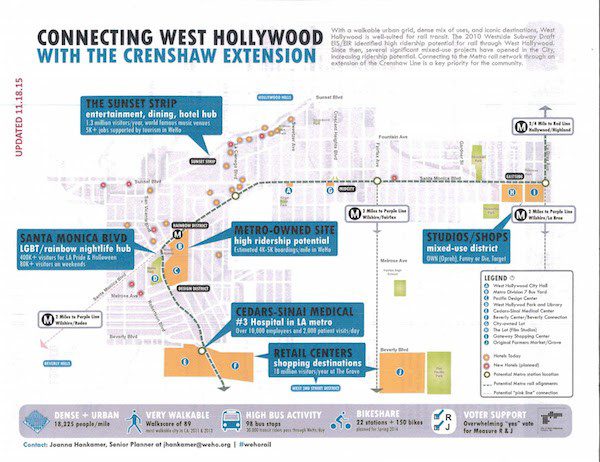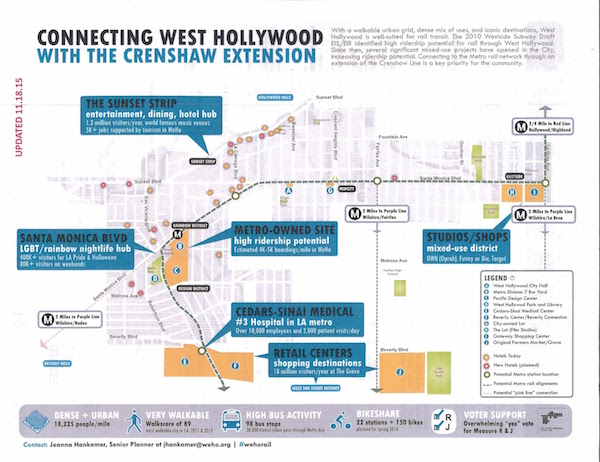 City Councilmember John D'Amico said that the Council should tell Metro it won't support an elevated or on-grade line along San Vicente or La Cienega. D'Amico called out what he described as insensitive decisions by Metro in demanding that West Hollywood make clear its opposition without waiting for Metro to finish its analysis of the five options. One thing he called out was Metro's elimination of an extension to the Sunset Strip as an option.
"Metro is not putting a line to the Sunset Strip, the most famous boulevard in Southern California, maybe other than Venice," D'Amico said. "… It's just extraordinary to me how blind they are. They don't know what they're doing when it comes to West Hollywood. They're completely unconscious."
Joanna Hanmaker, principal planner for the city's Community Services Department, who is working with Metro on the project, recommended that the city not draw the line on possible options until Metro finishes analyzing the options. Hanmaker said Metro staffers are aware of the city's concerns and will take them into consideration as part of their effort to get community feedback on the options.
One obvious consideration for Metro will be cost. Hanmaker said the rough cost an underground line is $800 million per mile, while it is $300 million per mile for an elevated train line and $150 million per mile for a ground-level track. The City of West Hollywood has committed to help subsidize the cost of the project, a request Metro has made given that has determined that its $1.2 billion budget for various transportation improvements across the county isn't adequate.
Council members John Heilman and Lauren Meister and Mayor John Duran also expressed their opposition to elevated or ground-level rail lines. Councilmember Lindsey Horvath, who has been one of the most active council members in lobbying Metro for the extension through West Hollywood, said no one has actually advocated for an aerial line along San Vicente Boulevard. Horvath said she is confident that West Hollywood has Metro's attention because of its willingness to commit to investing in the extension.
One of Metro's criteria for ranking the priority of projects for construction is whether a local jurisdiction is willing to allocate at least 10% more than the required 3% contribution to the local project. Among the other five criteria in that "partnerships" category are whether the area applying for priority consideration will streamline the construction permit process and whether it will establish a tax district to fund at least 10% of the local extension cost.
A memo to the City Council last May from the city's Community and Legislative Affairs Division said that the Northern Extension within the City of West Hollywood is "estimated to cost between $1.4 billion and $2.2 billion depending on the final alignment selected after the environmental review. "
The 3% match thus would cost the city from $42 to $66 million. To earn points in the early project delivery ranking, West Hollywood would have to commit to contributing 10% more, an amount that would range from $70 to $550 million, depending on the final route of the subway line and the timing of its construction.