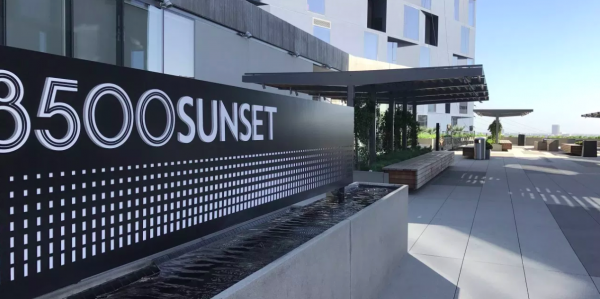 In a three-to-two vote, the West Hollywood City Council tonight rejected an appeal by the owner of two residential towers at 8500 Sunset Blvd. of a decision that bars the use of one of the buildings for luxury short-term rentals.
The owner is BPREP 8500 Sunset LLC, a company established by the Brookfield Property Group and Korman Communities, whose business is renting high-end luxury suites for short-term stays.
BPREP purchased the 8500 Sunset property from CIM Group last summer, and Korman announced that it planned to turn the buildings into one of its AKA hotels. Korman operates 11 such hotels, which offer extended stays to corporate executives and other affluent guests in locations such as Beverly Hills, where rooms rent for a minimum of one week for as much as $1,000 a night, and in other locations in New York, London, Philadelphia where one can rent a room for only a one-night stay.
The City of West Hollywood quickly notified Korman that such short term corporate rentals have been banned in WeHo, part of a move by the City Council to prevent housing for residents from being taken off the market. Korman responded by announcing that the 80 units in its East Tower would be rented as conventional apartments (with eight of them set aside as affordable housing.) The 110-unit West Tower would be used for short-term stays (with nine affordable units). Korman said it would require guests to stay for at least 31 days to comply with the city ban on short-term rentals.
John Keho, West Hollywood's interim director of planning and development services, ruled last November that Korman was using the West Tower units for "temporary lodging," effectively making it a hotel. Korman appealed his decision to the West Hollywood Planning Commission, which upheld it, leaving the next option an appeal to the City Council.
Korman's argument turned largely on the definition of short-term rentals and its contention that the City of West Hollywood had not formally established a requirement for a one-year initial lease, which it now was demanding. Ted Green, the lobbyist representing Korman, and one of its lawyer, Eric George, also argued that the city was being unfair to young newcomers to West Hollywood, who might not want to commit initially to a one-year lease. They and other speakers on Korman's behalf also said that banning short-term rentals such as those offered by AKA would inhibit creative people such as actors from staying in West Hollywood while making a film or engaging in other creative projects.
Councilmember John D'Amico and Mayor John Duran supported Korman's appeal. D'Amico acknowledged the shortage of affordable housing in West Hollywood but said that restricting AKA's rental terms was an effort to address a "luxury housing crisis" that the city does not have. D'Amico noted that other new and expensive apartment buildings such as the Domain, the Huxley and the Dylan also have been renting out units on a short-term basis to corporate clients, which he said was evidence that there wasn't sufficient demand for such expensive units. Duran argued that Korman's extended-stay corporate rental approach was another example of the "disruptive" business models such as that of Uber and Lyft that society will have to adapt to.
Councilmember John Heilman strongly disagreed with D'Amico, saying that the long history of the project, which was first proposed in 1999, included many changes authorized by the City of West Hollywood that were all about making what initially was a retail and office project into a residential one. Councilmember Lauren Meister argued that Korman was breaching a development agreement reached in the early days of the project when the developer sought permission to use the buildings as apartments or condominiums. She also noted that the units in both of the buildings are counted by the state in its calculation of the size of the city's permanent housing stock, another sign that the project was intended to provide permanent residences.
Councilmember Lindsey Horvath called out Korman for renting some of its affordable units in the West Tower at market rates. She and Heilman also cited a similar move by Korman in Beverly Hills, where it bought an apartment building and began using it for short-term corporate stays without that city's permission. It eventually negotiated a deal with the City of Beverly Hills to permit it to continue.
Horvath and Rachel Dimond, the city's senior planner, cited evidence that Korman wasn't being honest in its claim that it was using the West Tower solely for rentals of 31 days or more. Dimond noted several examples where those who rented apartments in the building were given refunds after ending their stays in less than 31 days. Horvath also noted that a petition supporting Korman that was presented to the Planning Commission contained a forged signature of a recently born child.
D'Amico argued that even if the city barred Korman from using the building for extended corporate stays, it was unclear how it could effectively enforce the ban.
It is unclear what the next steps are for Brookfield and Korman, although those familiar with the situation say it is likely that it will bring a lawsuit against the city.