When the West Hollywood City Council voted on July 9 to ban the rental of dockless scooters in West Hollywood, Councilmember John D'Amico decried the decision.
"It breaks my heart to see that our city is turning our back on young people in this way," said D'Amico, who noted the age gap between the young supporters of electric scooters and their older opponents. "This is the first time this many people under 35 have shown up for anything," he said, referring to public comments at the City Council meeting on the proposed ban.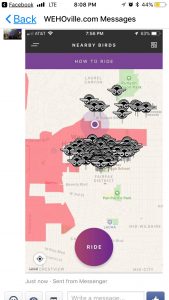 At last night's City Council meeting it was clear that young scooter advocates haven't given up. Twenty-somethings J.T. Parr and Chad Kroeger rolled into the Council Chambers with their scooters, which they then were asked to move outside. But both returned and spoke about the impact dockless electric scooters have had on them and their friends. Their talk, which can be seen in the video above, illustrated both their passion for scooters and the age gap between twenty-somethings and City Council members and the typical Council meeting audience.
Kroeger, who said he's from San Clemente but loves to "kick it in West Hollywood," told the Council that his dog, J.T.,  tells him that he expresses his emotions more after a ride. Parr said scooters help riders bond, noting that he gives "head nods" to lots of other writers.
"Can I be real, I'm going through a breakup and my Bird scooter is all I got," Parr also revealed. "When I'm ripping through the streets, it feels like it is mending the rifts in my heart."
"Some Birds aren't meant to be caged," Kroeger said, using that quote from Ellis Boyd 'Red' Redding in "The Shawshank Redemption" to refer to his scooter brand of choice.
While the city has prohibited making dockless scooters available for rent in West Hollywood, that appears to have had little effect on the numbers of them cruising city streets and sidewalks, often illegally with riders not wearing helmets or understanding that riding on sidewalks isn't permitted.
The continuing migration of Birds (and Limes) into WeHo may be explained by a recent screenshot of the Bird mobile app page that shows dozens of its scooters available for rent on West Hollywood's borders.