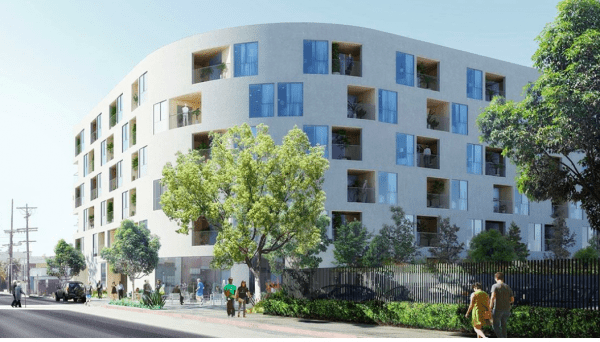 The City of West Hollywood is committing to provide $2.1 million in construction and permanent financing for the L.A. LGBT Center's 98-unit senior affordable housing development at 1116-1118 N. McCadden Ave. known as McCadden Plaza. Thirteen of the units will be set aside for West Hollywood residents.  The funding was approved by the West Hollywood City Council at its meeting last week.
McCadden Plaza is part of the Center's Anita May Rosenstein Campus, currently under construction on Santa Monica Boulevard at McCadden Place. The Anita May Rosenstein Campus is expected to cost about $135 million. In addition to the housing for seniors, it will provide 25 units of affordable housing for young people, 60 beds for the transitional living program and 40 emergency overnight beds, as well as a commercial-grade kitchen, on-site parking and a number of services and resources for individuals experiencing homelessness.
The Los Angeles City Council recently approved two motions by Councilmember David Ryu, whose 4th District includes the Rosenstein Campus location, to provide a total of $850,000 in funding for the campus.
The project has received other private and public funding, including from Proposition HHH, $4.9 million in Community Development Block Grant (CDBG) funding, and $50,000 from Councilmember Ryu's discretionary funds.
West Hollywood's funding will come from the city's Affordable Housing Trust Fund. Occupancy of 13 of the units funded by WeHo will be restricted to low-income and very low-income residents.
The Anita May Rosenstein Campus is set to be completed on schedule in early 2019. It will include street infrastructure improvements on Santa Monica Boulevard, McCadden Place and Las Palmas Avenue.