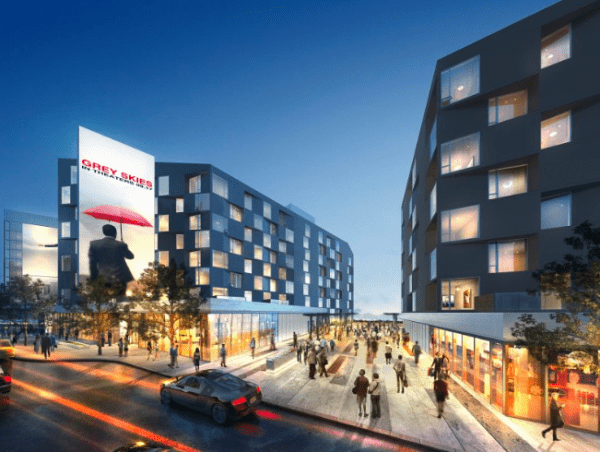 The owner of 8500 Sunset Blvd. has filed a claim for damages of more than $40 million with the City of West Hollywood as a result of a City Council decision on Sept. 4 that effectively bans the short-term rentals of some of its apartment units.
The claim was delivered on Monday to City Clerk Yvonne Quarker. Payment of the claim almost certainly will be denied by the City Council, which will set the city up for a court battle with BPREP 8500 Sunset LLC, a company controlled by Korman Communities and the Brookfield Property Group.
The claim states that BPREP has and will sustain damages in excess of $40 million because the City Council affirmed a ruling by interim Planning and  Development Services Director John Keho that the company could not use the furnished units of the West Tower at 8500 Sunset for luxury short-term rentals. (Nine of the 110  units are supposed to be set aside for affordable housing.) The 90-unit East Tower consists of unfurnished units that are rented as apartments. The Council made its decision in a three to two vote, with Mayor John Duran and Councilmember John D'Amico siding with BPREP.
BPREP purchased the 8500 Sunset property from CIM Group last summer, and Korman announced that it planned to turn the buildings into one of its AKA hotels. Korman operates 11 such hotels, which offer extended stays to corporate executives and other affluent guests in locations such as Beverly Hills, where rooms rent for a minimum of one week for as much as $1,000 a night, and in other locations in New York, London, Philadelphia where one can rent a room for only a one-night stay.
The City of West Hollywood quickly notified Korman that such short term corporate rentals have been banned in WeHo, part of a move by the City Council to prevent housing for residents from being taken off the market. Korman responded by announcing that the 80 units in its East Tower would be rented as conventional apartments (with eight of them set aside as affordable housing.) The 110-unit West Tower would be used for short-term stays (with nine affordable units). Korman said it would require guests to stay for at least 31 days to comply with the city ban on short-term rentals.
John Keho ruled last November that Korman was using the West Tower units for "temporary lodging," effectively making it a hotel. Korman appealed his decision to the West Hollywood Planning Commission, which upheld it, leaving the next option an appeal to the City Council.
BPREP calls out three items to support its claim for damages:
1) It says that two members of the Council – John Heilman and Lauren Meister – contradicted themselves by voting in support of a City Hall staff statement that requiring rentals on a "long-term basis" meant renting them for one year or more. Those council members also, BPREP says, stated that they didn't support a one-year minimum lease requirement.
Now, the BPREP claim states, "Council's majority decision creates a precedent that no unit in the city may be rented for less than a year, because Code section 19.90.020 applies to any 'Dwelling Unit,' which is defined as 'occupied by or intended for one household on a long-term basis'."
2) The determination that leases must exceed or equal one year "is discriminatory, arbitrary and capricious."
The BPREP claim states that the city's website, WeHo.org, says any rental unit may be leased for 31 days or more, as is done at other apartment buildings in the city. The claim also states that there is no existing city law or regulation requiring a one-year minimum lease. "Council's action targets only BPREP 8500 Sunset LLC, as a one-year minimum rental requirement is not applied to any other residential units within West Hollywood," the claim states.
3) The City Council's determination that the West Tower is a hotel is "specious."
"The Code is straight forward in defining a hotel as a facility that offers rooms to guests 'for overnight or other temporary lodging, typically less than 30 days.' Because apartment units at the property may never be leased for fewer than 31 days,8500 Sunset by definition is not a hotel."
The claim will be reviewed by the City Attorney and presented to the City Council at a future meeting.
---
While you're here…
… we have a favor to ask. In the six years since we first launched WEHOville.com our readership has grown rapidly, validating our belief that the residents of West Hollywood care deeply about this city. What hasn't grown so rapidly is advertising revenue, which today is a challenge for all news media. That makes it hard to sustain the unbiased coverage we provide of what is really going on, and that makes it hard for us to assemble the resources  to dig deeper into other stories that affect the lives of those who call West Hollywood home.
So you can see why we need your help. Financial support from our readers means our coverage will never be biased by the interests of a wealthy owner or politician. It means WEHOville will always be able to speak truth to power by shining a bright journalistic light on what is really happening in our city.
The best way for you to support delivery of the news you want and need is by subscribing to WEHOville, which means you'll get a daily alert each morning to all stories published in the previous 24 hours. There are a variety of subscription options, which you can find by CLICKING BELOW. And if you subscribe, we will add you to our growing list of community members who support honest and objective reporting about our amazing city.
Thanks for your support!