The City of West Hollywood is going to be taking steps to alert riders of dockless electric scooters that they are breaking the law when they use them on the sidewalk.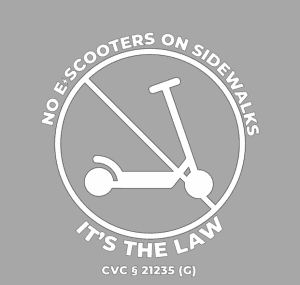 City Hall staffers have created a stencil that states "No E-Scooters on Sidewalks / It's the Law" that will be painted on all four corners of each of 11 intersections of side streets with Santa Monica Boulevard and Melrose Avenue and on the north side of Santa Monica in front of Plummer Park. Such stencils may address the concerns of some residents that those illegally riding the scooters on the sidewalks are unaware they are breaking the law.
The Santa Monica intersections are at Doheny, San Vicente, Westbourne, La Cienega, Holloway Drive and Croft Avenue, Crescent Heights, Fairfax, Gardner and Vista and La Brea. The Melrose intersections are at Robertson and San Vicente.
In a report to the city's Transportation Commission, which is meeting on Wednesday, the city's Planning & Development and Public Services departments also will update the commissioners on negotiations with Lime and Bird, two of the largest providers of dockless scooters in the Greater Los Angeles area. The City Council voted in June to ban the rental of such scooters within West Hollywood's borders. That vote was a reaction to a decision last spring by both Lime and Bird to drop scooters on West Hollywood's sidewalks, making them easily available to anyone with a mobile phone scooter app, without alerting City Hall.
Anyone with the necessary app can rent the scooter on the spot. The typical price is an initial fee of $1 and an additional 15 cents per minute. Lime and Bird and other scooter companies use GPS tracking to discover where a rider leaves a scooter and then alert other prospective riders to its location. Scooters that are not picked up by other riders are retrieved by the owner at some point in the day. The scooters are called "dockless" because they aren't stationed at any designated location.
In a report to the Transportation Commission, city staffers note that both Bird and Lime have agreed to mark the boundaries of West Hollywood as a "red zone," meaning rental of scooters found on the sidewalks within the city isn't permitted. Riders who rent scooters outside of the city, such as the many blocks of Melrose Avenue within the Los Angeles city limits where they are clustered, can legally ride them into WeHo.
In its report to the Transportation Commission, the city states existing state laws governing the use of such scooters. The law states that one cannot:
1) Operate a motorized scooter unless it is equipped with a brake that will enable the operator to make a braked wheel skid on dry, level, clean pavement.
2) Operate a motorized scooter on a highway with a speed limit in excess of 25 miles per hour unless the motorized scooter is operated within a class II bicycle lane.
3) Operate a motorized scooter without wearing a properly fitted and fastened bicycle helmet that meets the standards described in Section 21212.
4) Operate a motorized scooter without a valid driver's license or instruction permit.
5) Operate a motorized scooter with any passengers in addition to the operator
6) Operate a motorized scooter carrying any package, bundle, or article that prevents the operator from keeping at least one hand upon the handlebars.
7) Operate a motorized scooter upon a sidewalk, except as may be necessary to enter or leave adjacent property.
8) Operate a motorized scooter on the highway with the handlebars raised so that the operator must elevate his or her hands above the level of his or her shoulders in order to grasp the normal steering grip area.
9) Leave a motorized scooter lying on its side on any sidewalk, or park a motorized scooter on a sidewalk in any other position, so that there is not an adequate path for pedestrian traffic.
10) Attach the motorized scooter or himself or herself while on the roadway, by any means, to any other vehicle on the roadway
The Transportation Commission will meet at 7 p.m. tomorrow at the Community Conference Room in West Hollywood City Hall, 8300 Santa Monica Blvd. at Sweetzer.
---
While you're here…
… we have a favor to ask. In the six years since we first launched WEHOville.com our readership has grown rapidly, validating our belief that the residents of West Hollywood care deeply about this city. What hasn't grown so rapidly is advertising revenue, which today is a challenge for all news media. That makes it hard to sustain the unbiased coverage we provide of what is really going on, and that makes it hard for us to assemble the resources  to dig deeper into other stories that affect the lives of those who call West Hollywood home.
So you can see why we need your help. Financial support from our readers means our coverage will never be biased by the interests of a wealthy owner or politician. It means WEHOville will always be able to speak truth to power by shining a bright journalistic light on what is really happening in our city.
The best way for you to support delivery of the news you want and need is by subscribing to WEHOville, which means you'll get a daily alert each morning to all stories published in the previous 24 hours. There are a variety of subscription options, which you can find by CLICKING BELOW. And if you subscribe, we will add you to our growing list of community members who support honest and objective reporting about our amazing city.
Thanks for your support!