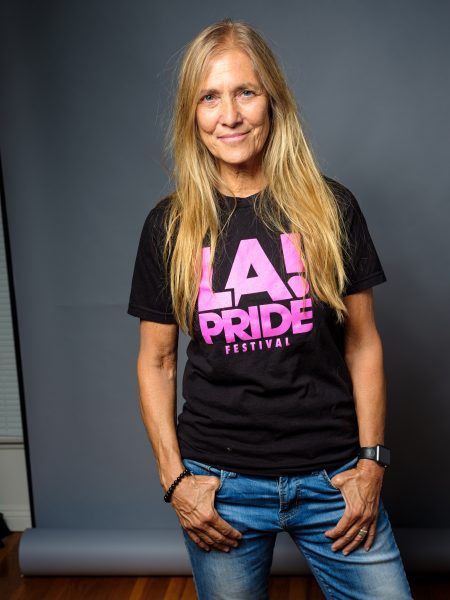 Madonna Cacciatore had no desire to leave her job as director of special events at the Los Angeles LGBT Center. She'd been there since 2012 and was content to continue producing events like the annual black-tie Vanguard Awards gala, An Evening with Women and the Simply diVine food and wine tasting event.
However, when Christopher Street West (CSW), the nonprofit that puts on the yearly L.A. Pride celebration, invited her to become its executive director, it was too good to pass up.
"I wouldn't have left the Center. I loved it there," says the 64-year-old Cacciatore. "But when this opportunity arose, for me, it was everything I had been working for in my life. It was an opportunity for me to work with the community in a way that I don't get to do when I'm producing events. My heart is in this community. My soul in in this community . . . My life has been rich and full in my activism and this is the perfect step in my journey, in my career."
Even though she only started work as executive director on July 1, she's quickly winning over CSW board members, whom she already refers to as her "family." In fact, during the July CSW board meeting, her first since becoming ED, she talked about how being at the 2018 LA Pride in June (before she started officially started) with other board members felt like she was celebrating something special with family members.
Growing up in Irving, Tex., outside Dallas, she loved dancing and musical theatre. While attending the University of North Texas in Denton, Tex., Cacciatore majored in French, having fallen in love with the language thanks to a schoolgirl crush on a pretty high school French teacher.
"I think she was the reason I knew I might be gay," says Cacciatore, who came out at age 16, back in 1971.
For many years, Cacciatore pursued a career in acting and paid the bills as a massage therapist. While living in Seattle, she booked a small part on the short-lived 2000 TV series "The Fugitive" starring Tim Daly (a remake of the hit 1960s series). That first taste of Hollywood left stars in her eyes.
"I got my own trailer for that," recalls Cacciatore. "It wasn't that many lines, but then I was like, 'I'm moving to LA. This is cool'."
Occasional acting parts came her way, but in summer 2006, fate intervened when she answered an ad to produce the annual Summer Party for AIDS Project Los Angeles (APLA). Shortly after, APLA put her on staff and she eventually become the events manager. Her beloved older brother, John, died from AIDS in 1991, so working for APLA felt appropriate, she said.
Since 2003, she's been partnered with Robin McWilliams, a talent manager with MadCatch Entertainment, a company the two own together. They married in August 2017 in a ceremony officiated by L.A. LGBT Center CEO Lorri Jean, who Cacciatore considers to be a mentor.
"We were able to [marry] because of the work of every activist for marriage equality over the years," she says. "The day that same-sex marriage became the law of the land, Robin and I made the cover of an L.A. Times article with a photo of us holding hands in West Hollywood Park and a headline that read 'I never thought I'd see this day,' a quote by Lorri Jean. My activism over the years has included knocking on doors and educating people in Washington, D.C. and Seattle. It was indescribable to finally be standing across from the woman I love, exchanging vows and surrounded by 200 of our friends and family who continue to work for equality."
She hopes to take CSW to great heights and her biggest cheerleader is turning out to be the man who helped hire her, Estevan Montemayor, the CSW board president.
"The greatest accomplishment for me [as newly installed CSW board president] has already happened, and that was hiring Madonna Cacciatore as our executive director," says Montemayor. "I believe that Madonna will transform this organization and lift it up and lift our community up and that is the most important thing that this organization could have done this year, especially as we come to our 50th anniversary [in 2020] and realize our full potential.
"This woman, when I was chairing the search committee for an executive director, epitomized everything that this organization's mission was about. I have the full faith and confidence in her, as does our board, and it's a very exciting moment for this organization."