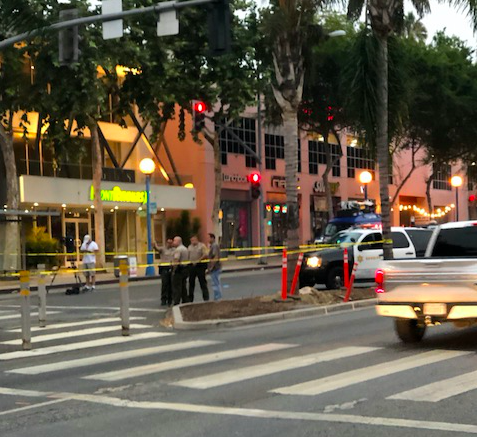 A pedestrian was struck by a car at around 3 a.m. today while in the crosswalk on Santa Monica Boulevard at Westbourne.
The pedestrian, a woman in her 30s whose name is not available, was taken to Cedars-Sinai Medical Center. Her condition is unclear.
A woman at the West Hollywood Sheriff's Station who identified herself as Sgt. Hewitt confirmed the details above provided by WEHOville but declined to give any more information about the incident, saying it remains under investigation.
Eric Jon Schmidt, a candidate in the March election for City Council, provided the photos above of the scene, which would indicate that the crosswalk where the accident occurred is the one extending from the LASC store on the South to the block where Starbucks and Kitchen 24 are located to the North.
Correction: An earlier version of this story said the accident occurred on Santa Monica Boulevard near Westmount. It occurred near Westbourne. The story has been corrected.