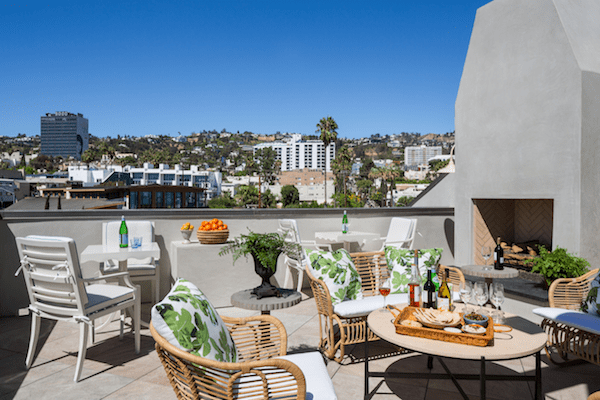 No. 850, West Hollywood's newest hotel in one of its older buildings, is scheduled to open on Oct 1.
No. 850  is a dramatically redesigned and reimagined portion of the old San Vicente Inn that takes its name from its address on the east side of San Vicente Boulevard, north of Santa Monica. The 23-room hotel will include the historically designated building facing San Vicente that is part of the Old Sherman Thematic Grouping and a new four-story building behind it. The Sherman Thematic Grouping contains some of the original residences of West Hollywood, then known as Sherman. Those homes were built between 1899 and 1907 and housed workers of the Pacific Electric Railway.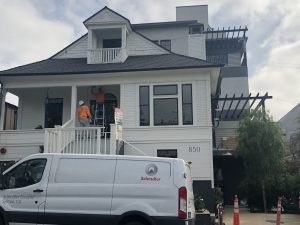 No. 850 is a project of famed hotelier Jeff Klein, known for his careful restoration of the Sunset Tower on Sunset Boulevard. That historically and architecturally significant building now is known as a gathering place for Hollywood influentials. Klein engaged architect Marc Appleton (known for his work on the San Ysidro Ranch restoration) and London-based interior designer Rita Konig to redevelop the 850 property and its interiors with "a unique sensibility typically found in private homes, where depth and detail are the focus."
An announcement of the opening states that "the intimate space features 23 beautifully appointed guest rooms, a welcoming lobby lounge, a communal living space, large rooftop terrace and modern kitchen, all within this 10,000+ square foot property."
"… Guestrooms are carefully curated to feel livable and comfortable, with sleek oak floors, cozy fireplaces, bespoke furnishings, and marble sinks. Large, steel sash windows open the rooms to natural light and offer panoramic views of the city."
No. 850's lobby lounge also serves as a bar, with a large menu of premium wines. An intimate living area, situated on a floor above the lobby lounge, gives guests a space to relax, socialize or conduct meetings. It includes a large fireplace and antique leather armchairs. There is a residential-style communal kitchen that provides complimentary breakfast to guests and will be provide a rotation of prominent local chefs.
The No. 850 website currently is accepting reservations from Oct. 1 onward, with single-occupancy rooms going for $227.50 a night. A deluxe king with a view goes for $390 a night, and a two-person suite with special perks is $705 a night.
Klein purchased the 850 building in 2013 as part of a grouping of buildings on the east and west sides of San Vicente Boulevard that were known as the San Vicente Inn. At the time he purchased those buildings, they had fallen into physical and reputational disrepair. The San Vicente Inn had become a "clothing optional" space that catered to gay men and later evolved into a place that was infamous for prostitution and the use of illegal drugs by its clientele. After acquiring the Inn, Klein quickly evicted the drug users and dealers and cleaned up the property.
The three Sherman-era San Vicente Inn buildings on the west side of the boulevard also are being redeveloped, and that site will be known as the San Vicente Bungalows. The Bungalows website identifies it as a "Private Membership Club – By Invitation Only" opening this Fall. WEHOville has been unable to obtain more information about that project.