An art exhibit that offers a creative and unique look at West Hollywood just might be worth the more than three-hour drive (although you could wait until it hits WeHo in November.) "WeHo in Paso," which opens Oct. 4 in Paso Robles, will feature the works of 12 artists who live and work in West Hollywood that explore life in WeHo.
The exhibit at Studios on the Park is a partnership between the studio and the City of West Hollywood. Studios on the Park is located at 1130 Pine Street in Paso Robles. An opening reception will take place on Oct. 6 from 6 to 9 p.m. The exhibition will move to West Hollywood in November. The West Hollywood-based opening reception will take place on Nov. 8 from 6 to 8 p.m. at the Werle Building, located at 626 N. Robertson Blvd. The exhibition will remain on display until Dec. 1.
The concept for "WeHo in Paso" was first generated by Studios on the Park, which approached the City of West Hollywood about this collaboration after meeting with the city's arts staff and participating in a tour of the city's public art collection. Impressed by the breadth and energy of the city's murals, in particular, Studios on the Park hoped to bring this same dynamic to its gallery by featuring artists from West Hollywood.
An announcement of the exhibit says it "responds to three of the strategic principles — space, support, and visibility — set forth in a recent community-based cultural plan for the City of West Hollywood. The Plan is the result of an 18-month-long process during 2016 and 2017, which included contributions from more than 1,700 individuals and many groups."
Artists Included in WeHo in Paso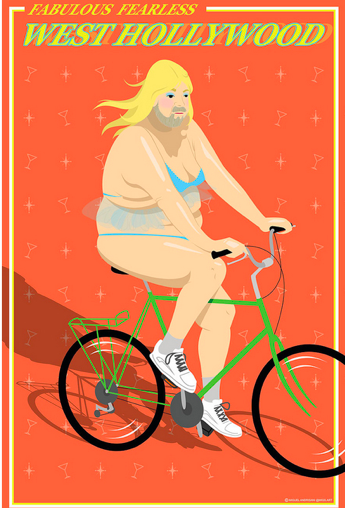 Miguel Andrisani was born in Pasadena and spent most of his youth in Rosario, Argentina, where his love for art flourished. Currently Andrisani lives in West Hollywood and was recently commissioned by the City of West Hollywood to produce his first public art work, located in the City Hall Community Plaza and titled "I See You WeHo." He spends most of his days in the studio drawing freehand, digitally or with a makeup brush. Miguel is a professional, union-represented makeup artist for television, film, and print.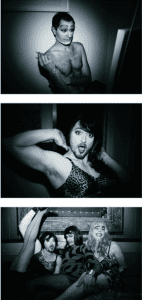 Photography is the primary means Tony Coelho uses to express himself as an artist and to interpret the world around him. Coelho grew up in a suburb of Los Angeles and made his move to West Hollywood in his mid-twenties. West Hollywood and the greater Los Angeles area is a hub to a vibrant queer community where he constantly finds inspiration. He questions what it really means to be beautiful, sexy, and perfect, especially in a society that has rigid views on what constitutes beauty.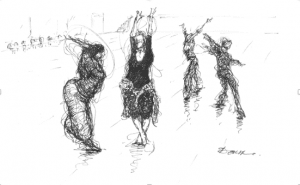 Thom Dower is a West Hollywood artist and musician whose illustrations have appeared in dozens of books and magazines, including the Los Angeles Times, the University of Iowa Writer's Workshop, record albums and multimedia graphics. He is a teaching artist at the L.A. County Museum of Art, where he instructs in both drawing and painting. Starting from his earliest work as a courtroom artist, he often portrays the human figure in motion, creating composite images from a combination of real-time sketching and memory.

Martin Gantman is a West Hollywood-based artist and writer who has exhibited internationally in such venues as AC Direct Gallery and the Alternative Museum, New York; A.R.C. Gallery, Chicago; Kristi Engle Gallery, HAUS, POST, in Los Angeles; Werkstadt Berlin, Galerie Merkel, Whylen, Germany; Artetica, Rome and Viareggio, Italy, and La Coruna, Spain. His published work includes a recent book about his art work, "Black Box: Decoding the Art Work of Martin Gantman," as well as "See you when we get home," a project for Art Journal magazine.

K Ryan Henisey works as a creative professional in Los Angeles. He is an emeritus leader for Emerging Art Leaders, Los Angeles, member of TAG (The Artist Gallery), and the Los Angeles Art Association. A native of California, he has been recognized with an Award of Excellence in Fine Art from the California State Fair. His artwork references his own figure with patterns, hand-cut paper, atlas pages, and painted scenes from Los Angeles County.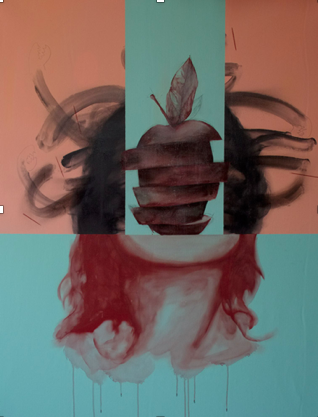 Originally from South Bronx, MONCHO1929's work has been featured in various solo and group exhibitions all over the world and his artwork can be found in multiple private, city, and corporate collections including the LA Clippers, French Consulate of the U.S., Coffee Bean & Tea Leaf Co., and public art collections of Glendale, Los Angeles and West Hollywood. The works included in the "WeHo in Paso" exhibition are part of MONCHO1929's "Chimera" series which explores the contrast of colors and subjects in order to begin a new narrative within the works.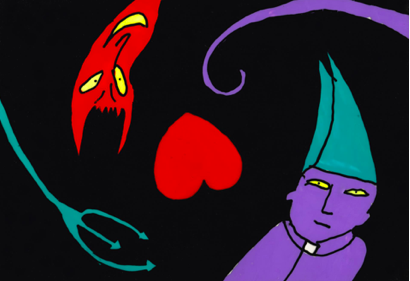 Eileen O'Meara is known for her experimental animated films, "Agnes Escapes from the Nursing Home, that Strange Person" and the HBO/UNICEF Cartoon for Children's Rights. "Panic Attack" is a hand-drawn animation from the point of view of a woman having a panic attack. The artist wanted the transitions between reality and her imagined fears to be seamless, so there are no edits and the art work is one continually transforming drawing.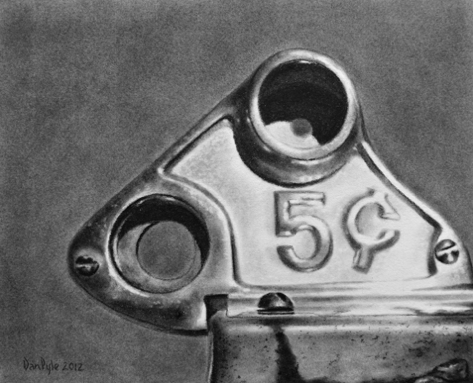 Dan Pyle has been drawing since childhood with virtually no formal art training. The photographic realism of Dan's drawings is noteworthy due to the fact that he works exclusively in charcoal. He finds inspiration in shadows and contrasts and manipulates the use of negative space to explore the theme of anonymity. His drawings have been published in numerous art magazines & books, both domestically and internationally.
Eugene Salandra studied drawing at the Art Students League of New York. With the exception of a brief Benedictine monastic sojourn, the artist' life has been occupied with practicing the art of animation. "FaerieFilm " is Eugene Salandra's award-winning 1993 animated documentary about the Radical Faerie Movement. It has been newly remastered from the original negative.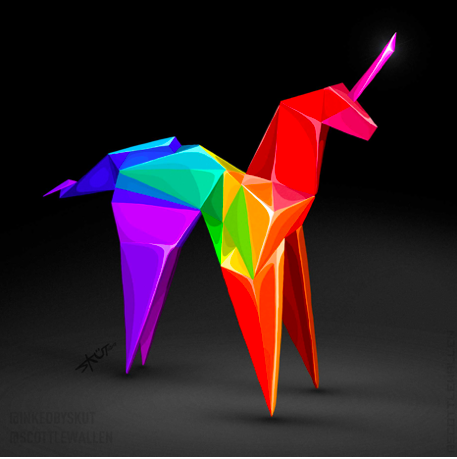 SKÜT aka Scott Lewallen is an artist native best known as co-founder and original designer of Grindr. Inspired by the ambiguous finale to the 1982 neo-noir film "Blade Runner, Unicorn Origami" symbolizes a mantra to live life free of judgement with a hunger for curiosity. His art work reflects a personal commentary on how such small symbols can influence a soul, impact its journey, and implore you to "Revel In Your Time."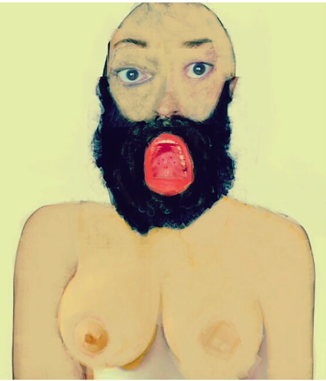 The artist SMITH submitted an artwork from the "Scream" series (2016-2017). The subject matter — screams — reflected a specific moment in the artist's life. "Unwanted Man" was created out of the inability to control one's life on a personal and professional level.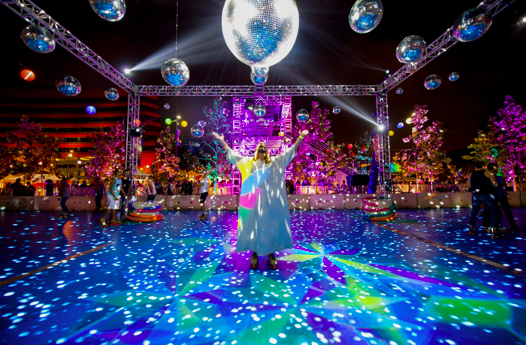 Jon Viscott has worked extensively in the photographic industry and shoots a wide range of subject matter including concerts, events, architectural, commercial, lifestyle, hospitality, government, editorial, and film productions. In 2017, Jon won the John Chase Art & Design Award at the West Hollywood Chamber of Commerce's 34th annual Creative Business Awards.
"WeHo in Paso" is organized by West Hollywood's Arts Division, part of the city's Economic Development Department, in collaboration with Studios on the.
For more information about City of West Hollywood arts programming, please visit www.weho.org/arts.