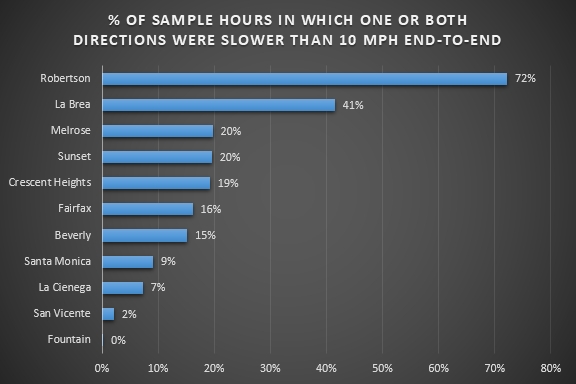 Fountain Avenue is the fastest among 11 major West Hollywood streets, while Robertson Boulevard is the slowest. That is the conclusion of a new report by WeHo by the Numbers, based on a sample of speed estimates spread over two months.
Each speed estimate was based on a computer-generated time estimate for driving from one end of the street in West Hollywood to the other. It included faster and slower parts of each street and time spent at traffic signals. It assumed no speeding.
Robertson Boulevard was the slowest during the sample period. Robertson's average estimated speed was below 10 miles per hour — a calculation that included early morning hours with no traffic. Even during those hours, average end-to-end speeds did not rise above 15 miles per hour. Of course, individual drivers might go faster.
To compare streets for slowness, the report calculates the percentage of time that each street's estimated speed was below 10 miles per hour in one or both directions. Robertson came in first at 72%. La Brea was second at 41%. Melrose, Sunset, and Crescent Heights came next around 20%.
The report also identifies the slowest hour of the week for each street in each direction. For all of the streets except Robertson, the slowest hour was during the weekday morning or evening rush. Robertson was the exception: it was slowest on Saturday night at 11 p.m. or midnight.
Only Beverly Boulevard was slower during its slowest-hour than Robertson was during its slowest hour: five miles per hour versus six. Beverly also had the slowest recorded speed estimate during the sample period. It was three miles per hour. The report concludes that Beverly was not slow as often as Robertson, but it could be quite slow when it was.
There was a difference between the slowest streets and those that had the biggest slowdowns from their top speeds. Sunset and Santa Monica led the way on that dimension. Robertson's top speed was much lower, so its slowdown was not as large in absolute terms.
Fountain Avenue was the fastest of the 11 streets during the sample period. It had the highest average speed and the highest speed during its fastest hour of the week. In general, the streets that were fastest at some point during the week were the longer ones, such as Fountain, Santa Monica, and Sunset.
The report includes snapshots of speed estimates for three high-traffic times during the work week and two on the weekend. For example, at 9 a.m. on a weekday, end-to-end speeds for West Hollywood's westbound, southbound, and northbound routes were generally 10 to 14 miles per hour. Eastbound routes were faster at 15 to 19 miles per hour. Fountain was faster than alternative routes in both directions.
At the same time, westbound Melrose and southbound Robertson were slower than alternative routes. They were in the range of 5 to 9 miles per hour. The report suggests that this slowdown was caused by drivers commuting through the city, entering on Melrose and then turning down Robertson.
To find out more, see the full report, Which West Hollywood streets are slowest and which are fastest?