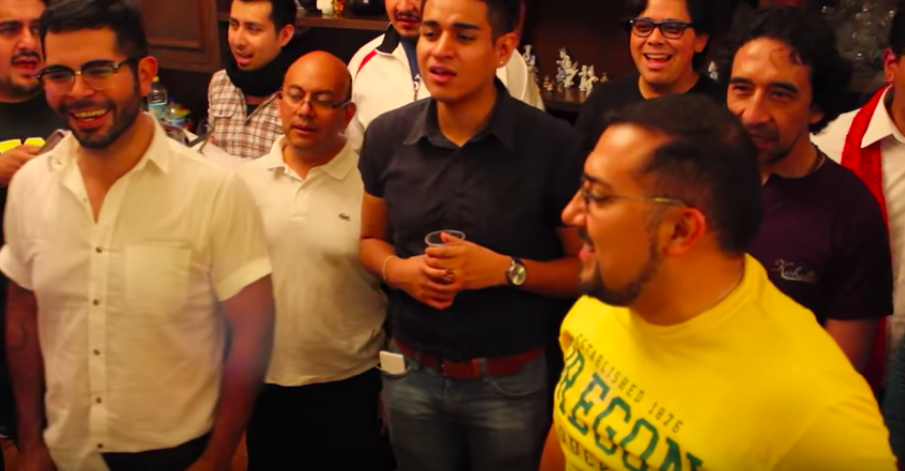 The Gay Men's Chorus of Los Angeles' effort to build bridges, not walls, with its Mexican brothers was temporarily blocked Sunday by the Department of Homeland Security.
Security inspectors at Houston's William P. Hobby Airport brought to a halt a group of men traveling from Mexico City to Los Angeles. Those men were members of the Coro Gay Ciudad de México (Gay Men's Chorus of Mexico City) headed to Los Angeles for performances with GMCLA.
According to the Los Angeles Times, which first reported the story, the problem was that inspectors found sheet music in the luggage of the Mexican visitors, which suggested the men might be heading to L.A. for a commercial performance rather than as tourists, for which they had the necessary permits.
"According to Coro Gay Ciudad de México executive director Oscar Urtusástegui, the trouble at the airport Sunday began because one choir member, Jorge Gutierrez, has the same name as an individual suspected of stealing a truck," the Times reported. "Gutierrez — a university literature professor — was waiting in an office for his identity to be verified when some of his fellow chorus members started chatting with him about this weekend's concert.
"After overhearing these conversations and discovering the group's sheet music, Urtusástegui says officers became suspicious that the 52 choir members were coming into the U.S. not as tourists, as their visas indicated, but as paid performers."
In fact, the members of the non-profit group are all volunteers, and GMCLA is a non-profit organization. Southwest Airlines paid for their airfare.
The Homeland Security officers' suspicion prompted a call to Jonathan Weedman, GMCLA's executive director. Weedman noted that U.S. Senators Diane Feinstein and Kamala Harris and Los Angeles Mayor Eric Garcetti were welcoming the Mexican singers and that sending them back to Mexico would be "an international incident."
With that, the Coro Gay Ciudad de México was allowed to board the flight to Los Angeles.
The two choruses will participate in a joint concert event on Saturday at the Alex Theatre in Glendale.  They will be joined onstage by Mariachi Arcoiris de Los Angeles, the world's first LGBTQ mariachi band. Together, GMCLA and Coro Gay Ciudad de México will perform a wide array of Mexican and Mexican-American music, paying tribute to artists such as Juan Gabriel, Gloria Trevi, Selena and Los Lobos.
There will also be other cultural components and celebrations throughout the week of this exchange, including a concert on Friday at Hollenbeck Middle School in East Los Angeles where together the two choruses will sing for students in appreciation of the city's diverse communities.
"We are very happy and honored to be able to share the stage with our brothers of GMCLA," said the Mexican chorus's Urtusástegui "The bridges we build together are with those who inspire us, whom we admire and who through music we can call our brothers today."
Tickets, selling quickly, can be purchased online.