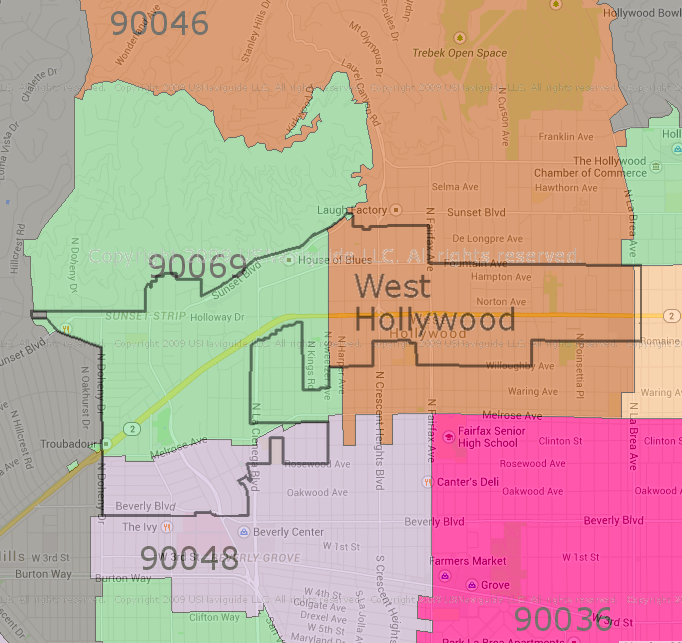 Eight years after West Hollywood became a city, leaders and many residents were in meltdown mode over what they claimed was notoriously poor postal service. There were way too many chronic late deliveries, they said, as well as parcels marked "undeliverable" even when addressed correctly.
The culprit, everyone decided, was the four ZIP codes that predated incorporation in 1984 that diced the two-square-mile city into tiny pieces. Elected officials said so many ZIP (Zone Improvement Plan) codes over a small geographic area made it hard to establish an identity.
Worse yet, the city had been split in two in 1991 when the telephone companies released the new 310 area code that roughly divided West Hollywood in half. La Cienega Boulevard became a dividing line between the existing 213 area code on the east side and the new 310 for the west side. The more modern 323 area code was added in 1998.
"Hard as it tries, West Hollywood gets no respect," surmised the Los Angeles Times in an article published Feb. 13, 1992. Those issues amounted to a smackdown for the city's self-esteem, elected officials proclaimed. They took on the U.S. Postal Service and the phone companies under the banner that they were thwarting the city's ability to carve an identity for itself in the overcrowded Los Angeles-area metropolitan market.
Zippity Doo Dah ZIP Codes
"Besides snarling the mail, the system complicates local record-keeping and makes it extra hard to sell West Hollywood, the concept," according to critics of the four zip code system quoted in the Times' news story. Only one of the four zip codes affecting West Hollywood, 90069, was based at a post office that sat within the city. It covered most of the broad western end of the city and extends north into Los Angeles. Most of the city's eastern half is included in 90046, though the tip juts into the area covered by 90038. The southwestern corner, south of Melrose Avenue, is included in 90048.
"We are our own city and I feel we should have our own ZIP code," said City Councilmember Abbe Land, who sponsored a resolution asking the Postal Service for a single ZIP code matching city borders. "We're being divided. Many people are proud to be in West Hollywood, and they want to be recognized."
The West Hollywood Chamber of Commerce executive director at the time, Thomas Crail, further explained the city's complaint in the article. "We've been around long enough. We've worked hard enough for our identity. God knows we've spent enough money on identity."
What really rankled city leaders, though, was being located right next door to the "pop queen of ZIP codes – Beverly Hills, 90210." Surely the Postal Service would understand its situation and grant West Hollywood a single ZIP code, or so the thinking went.
In 1992, city officials pursued their grievance under a recently established process that allowed communities to petition for ZIP code changes. The Postal Service surveyed residents and businesses to gauge support for the change and then studied how much it would cost to reprogram postal computers around the country, redesign local delivery routes and, if necessary, build a new post office, a spokesman told the newspaper.
As for West Hollywood's existence, the spokesman said the postal system's ZIP codes were designed to route mail, not to mark political borders or give identity to a community. "That's something a community wants, and we understand that and would like to make it happen. But we won't do it if it's going to cost a lot of money. Just because communities change their boundaries doesn't mean we have to change their ZIP code boundaries," the spokesman explained.
Complaints about mail service were a real problem, though, and piled up at City Hall after West Hollywood became a city in 1984. Problems manifested themselves in the form of returned public meeting notices and absentee ballots, and in extra work keeping track of property sales in the city through tax lists instead of ZIP codes, its information manager at the time, Patrick Depew, told the Times. "I've never come across such bad service as here in West Hollywood," he was quoted as saying.
Most of the city's arguments still circled back around to identity, in any case. The West Hollywood Marketing Corp, a city-sponsored promotion firm that tried to sell West Hollywood to the outside world as the "Creative City," found it impossible in 1991 to include city business statistics in a brochure on local commercial opportunities, said then-executive director Catherine Stribling. That was because statistics gathered by private marketing firms generally are compiled by ZIP code, she said.
While an effort to project a cosmopolitan image is probably one reason many businesses called Los Angeles home, the ZIP code change would help the city's self-image, she believed. "That does something internally and I can't explain what it is. It does affect people," she said. "It's a psychological thing."
It's hard to fight the Postal Service and win, and West Hollywood didn't, as everyone knows all too well today.
One Ringy Dingy
The new 310 telephone area code on the west side of greater Los Angeles caused similar howls of protests from West Hollywood officials and business people." This will have a serious impact on certain businesses in my city," Abbe Land told the Times. Pacific Bell and GTE hadn't given her or anyone else in the city a heads-up about their plans.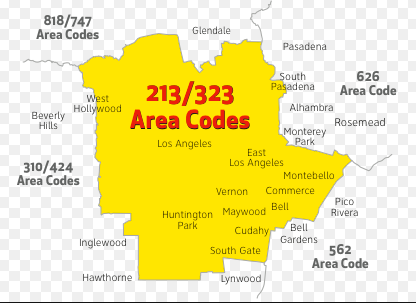 "Now people will have to say, 'Oh, that business is on Fairfax, and I'll have to dial one prefix,' or 'Oh, this is west of La Cienega, I'll have to dial another prefix.' That's unacceptable," she said. The addition meant that Land's City Hall office would be in a different area code than her home, just another factor in the city's threat to launch legal action.
A GTE spokeswoman said the geographical boundaries of the new 310 area code reflected phone usage patterns. She cited the large number of calls between L.A. and Hollywood for keeping those two areas together, but warned against trying to read too much into the divisions. Creating a new status code was not the intent, she emphasized. "This is basically a technical engineering decision, not a social engineering decision. The (new) code cuts a wide swath through the entire community."
"This will greatly confuse things," said Mitchell Ogas, manager of Sunset West Beauty Salon in West Hollywood. "You may be just down the street, but it will seem a world away with another area code. I would think they would have broken it up by city boundaries."
Several businesses on La Cienega with two phone lines had to have one in each area code because their telephones have different prefixes, one served by each area code, The Times noted in another article.
"This is going to be terrible. At Laffs R Us, we are not laughing today," the program director of a "comedy traffic school" on La Cienega said.
Paul Koretz, West Hollywood mayor in 1991, went a step further. "Personally, we think it's just absurd." He took umbrage at the fact that his city – like nine others – was being sliced in two by 310's oddly drawn boundaries. "In a city this tiny – 1.9 square miles – how is somebody going to know that if you want to dial one side of La Cienega it's 213 and if you call the other side, it's 310? It's going to be very bizarre. If we were able to remain entirely in 213, we would be thrilled."
Turns out, city leaders couldn't fight the phone companies. The 323 area code was instituted in 1998 under similar concerns.