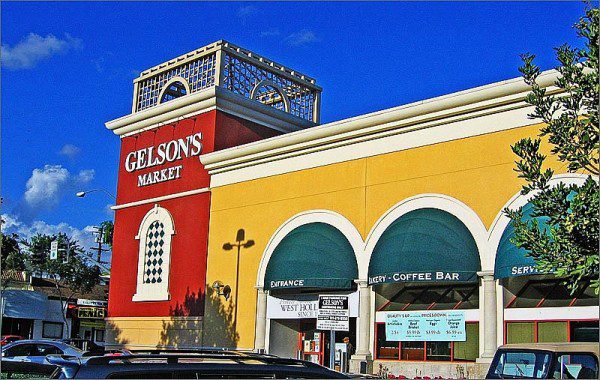 Among the many items on the West Hollywood City Council's agenda tonight is a discussion of the possibility of the city purchasing the Gelson's Market site at 8330 Santa Monica Blvd.
That item is on the Council's "closed session" agenda, which is reserved for legally or otherwise sensitive matters that don't have to be discussed publicly under the state's Brown Act.
In an interview with WEHOville, Yvonne Manganaro, who is the senior director of marketing for the California food store company, said Gelson's now manages 27 stores, 24 of which are in physical spaces owned by others. She said Gelson's wants to get out of the real estate business by selling the property in which its West Hollywood, Pacific Palisades and Calabasas stores are located.
However, Manganaro said, Gelson's does not intend to leave West Hollywood. "We're looking for a long term lease arrangement with options (to renew)," she said.
Manganaro noted that high real estate prices in West Hollywood make this an optimal time to sell the grocery store site and building. Thus far, she said, more than a dozen entities have reached out to inquire about buying the three properties that are on the market.
"I was kind of surprised that the City of West Hollywood is one of those interested," Manganaro said. "If the city were looking to boot us and expand City Hall, we would not do that. We want to stay in West Hollywood."
The City of West Hollywood has effectively expanded City Hall by renting space in the Koontz Hardware building on Santa Monica Boulevard to house some employees and putting us in the Werle Building on Robertson Boulevard. It also has purchased several commercial properties in recent years, including the lot that once was to house a Walgreen's pharmacy on the southwest corner of Santa Monica and Crescent Heights boulevards, which the city intends to use temporarily as a parking lot until it can decide a long term use. And it now owns the Coast Playhouse at 8325 Santa Monica Blvd., which it intends to use as a performance space.
Gelson's Markets, founded in 1951, is owned by Arden Group Inc., an entity headquartered in California that itself is controlled by TPG, a global private investment firm headquartered in San Francisco.
West Hollywood is home to nine traditional grocery stores: Bristol Farms, Gelson's, Pavilions, Ralph's (2 locations), Smart & Final, Trader Joe's (2 locations), Whole Foods Market. It also is the location of stores more focused on home delivery such as Pink Dot and Yummy and stores like Odessa, the Russian-market, with an ethic focus.