A proposed new preschool on North San Vicente Boulevard near Harratt Street will be the subject of a neighborhood meeting on Oct. 24.
The pre-school is a project of Nasim Pahlavan. Pahlavan's mother has run her own preschool in Massachusetts for 36 years and is helping her daughter with the West Hollywood project.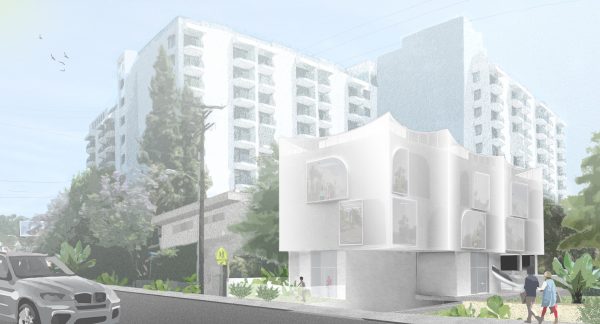 The pre-school will be housed in a new building designed by Lorcan O'Herlihy, a prominent California architect. The three-story building will include a 4,962 square foot subterranean parking garage. It will serve up to 72 children from 18 months to five years old.
A notice of the meeting mailed to area residents said "the architecture proposes carving away building mass, allowing light into indoor/outdoor classroom spaces on upper levels and the building site through a translucent exterior scrim. The landscape design takes inspiration from urban outdoor leisure spaces like pocket parks, urban gardens and community play areas."
Pahlavan said the garage is designed so that parents can drop off and pick up their children there without parking their cars, thus reducing the likelihood that the school will cause traffic problems. She said that studying the potential traffic issue and how to address it took more than a year. However, she added, "a preschool is a service to the community, and it would be a disservice to the community for me not to consider it."
Pahlavan said the school would meet an obvious need in West Hollywood. Citing data from the California Department of Social Services, she said there are seven preschools located in the Zip Zones that cover West Hollywood, which have room for a maximum of 249 children. However, data from the City of West Hollywood indicates that there are 1,025 children under the age of five in the city.
The community meeting will be held from 6 to 7 p.m. in the conference room on the first floor of City Hall, which is at 8300 Santa Monica Blvd. at Sweetzer. Parking is available in the automated garage behind City Hall and at the Kings Road parking structure at Santa Monica Boulevard and Kings Road.
Those with questions about the project can send them to Pahlavan 972northsanvicente@gmail.com.